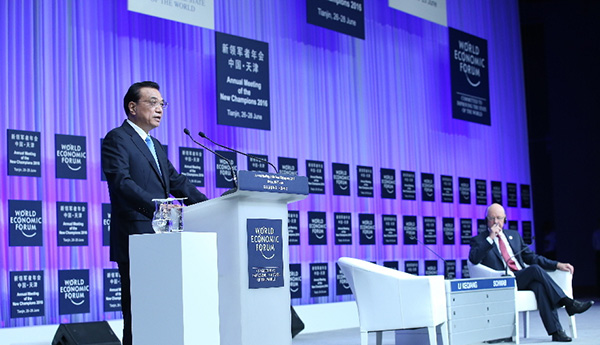 Premier Li Keqiang delivers a keynote speech at the opening of the Annual Meeting of the New Champions in Tianjin on June 27, 2016. [Photo / Xinhua]
It is pleasant to see that China's new driving forces are showing a rapid growth trend and playing a bigger role in guaranteeing employment, increasing income and advancing upgrading, said Premier Li Keqiang at the Annual Meeting of the New Champions 2016, also known as the Summer Davos Forum, on Monday.
As China enters 'new normal' after years of speedy growth and faces downward pressure, China adopted innovative macro-control policy and vigorously promote structural reform, focus on cultivating new driving face as well as transforming and upgrading traditional ones. Li said that China has maintained steady economic growth and has gained positive progress in structural readjustment.
"Giving some time, new driving force will bring new momentum to China's economy," Li said.
Li added that China has witnessed the development in reform and innovation as well as adjustment and transformation in the first six months this year.
According to Li, service industry is showing obvious advantage. Intelligent communications, smartphones, new-energy vehicles are growing, tourism, culture, sports, health industries are boosting consumption increase and upgrading.
"Overall, China's economic structure is optimizing, its quality is improving and driving forces accumulating," said Li.