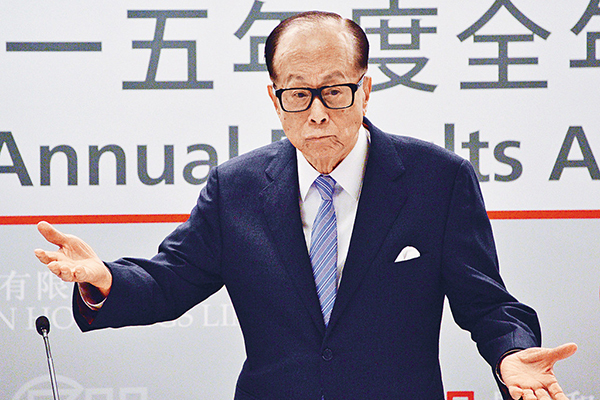 Li Ka-shing, business tycoon and Hong Kong's richest man. [Photo/IC]
"Chinese companies that use Britain to gain access to the EU market will encounter fresh issues including tax, labor mobility and legal aspects. These companies will consider setting up additional offices in the European continent," He Weiwen, a researcher at Chongyang Institute for Financial Studies at Renmin University in Beijing, told Chinese tabloid Global Times.
In recent years, Britain has become the top European destination for Chinese outbound investment. In the United Kingdom, Chinese firms have substantial exposure to several sectors, including infrastructure, real estate, nuclear power and financial services.
Chinese technology firms such as Huawei and Tencent have research and development centers in Britain.
China's overall non-financial direct investment in the UK exceeds $13 billion. The UK is also the second-largest trading partner of China within the EU with two-way trade volume set to reach $100 billion.
Li Ka-shing, business tycoon and Hong Kong's richest man, warned before the vote that he would scale back his investment in the UK should Brexit come to pass as "it would be detrimental to the UK and it will have a negative impact on the whole of Europe".