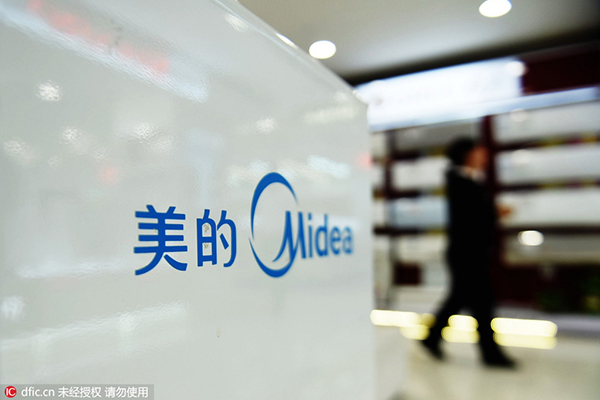 A customer walks past a counter of Midea at a home appliances store in Hangzhou city, East China's Zhejiang province, March 18, 2016. [Photo/IC]
Midea Group Co, China's biggest home appliances maker, has entered into a definitive agreement for the acquisition of 80 percent of Clivet S.P.A., Clivet Espana S.A. and related real estate assets, according to a company statement on Friday.
The Bello family, the current shareholders of Clivet S.P.A., a leading European company based in Italy, will retain the rest of 20 percent stake, according to the statement.
The strategic alliance will help Midea reinforce its presence on the European markets, according to Eric Tian, president of Midea Commercial Air Condition Division.
"It is a win-win cooperation. The complementary strengths of Midea and Clivet S.P.A. will create significant synergies in product offerings, market presence, supply chain and manufacturing," said Tian.
The alliance with Clivet followed a series of cooperation between Midea and other renowned industrial players.
Midea, based in Guangdong province, has earlier announced acquisitions of an 80 percent stake in Japanese home appliance manufacture Toshiba Corp's white goods business.
Also, Media launched in mid-June a voluntary public tender offer for all shares of Kuka AG, a German-based smart industrial solution provider.
"Clivet will become a true European center of excellence in developing innovative solutions for total comfort and energy efficiency. The alliance with Midea will unlock industrial synergies and increase the production capacity of Clivet's Italian plants, granting a solid growth for both the Italian company and its collaborators," said Bruno Bello, chairman of Clivet S.P.A.
Clivet, founded in 1989, designs, produces and distributes systems for cooling, heating, air ventilation and air purification for residential, commercial and industrial markets.