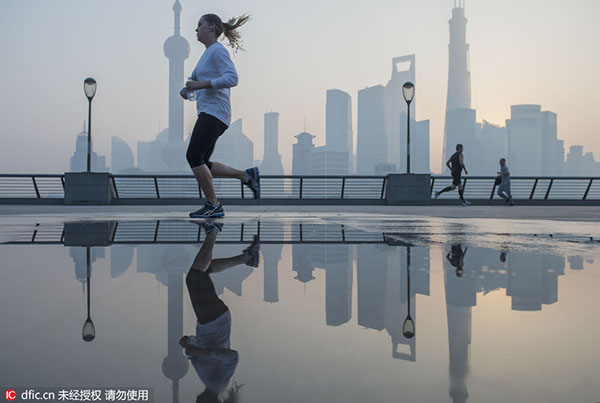 A jogger runs on the Bund after a rain with the skyline of skyscrapers and high-rise buildings in Shanghai. [Photo/IC]
China's debt situation has been exaggerated by some international institutions and its debt default risk is under control and will not pose systemic threats, senior government officials said on Thursday.
"Debt risks in China have been overrated by some international institutions," said Ruan Jianhong, deputy head of the Financial Survey and Statistics Department at the People's Bank of China, the central bank.
The Bank for International Settlements said China's overall debt was as high as 254.8 percent of GDP at the end of last year. But Ruan said the bank has included some factors that should not have been taken into account, thus increasing its estimate.
Whatever method is used, China's total debt load is still lower than that of some major world economies, Ruan said.
Wang Kebing, deputy head of the Budget Department at the Ministry of Finance, said the government still has room to raise debt levels. This would help the private sector to lower its leverage, which has become the major driving force for debt piling up in recent years.
Wang said the government, whose leverage is estimated to be about 39.4 percent of GDP, will continue to adopt a proactive fiscal policy and increase leverage in stages.
Sun Xuegong, deputy director of the Institute of Economics at the National Development and Reform Commission, said China will help enterprises with short-term financial difficulties to conduct debt restructuring.
But this would not include "zombie enterprises" that waste resources.
"The market will decide which enterprises should be shut down," Sun said.
Responding to concerns over default risks facing the banking system, Wang Shengbang, a senior official at the China Banking Regulatory Commission, said the country's banking system remains sound.
In the past three years, banks have written off 2 trillion yuan ($304 billion) in bad loans, the equivalent of 1.75 percent of bank lending, Wang said, adding that if no measures are taken, nonperforming loans will accumulate to 4 percent of total bank lending.
Sun said China's debt defaults will not pose a systemic risk as long as economic growth remains within a reasonable range.
Cai Fang, deputy head of the Chinese Academy of Social Sciences, said the country should step up supply-side structural reform, which will help to improve productivity and generate growth.
Cai was speaking at a forum held by the National School of Development at Peking University.
Xin Zhiming contributed to this story.