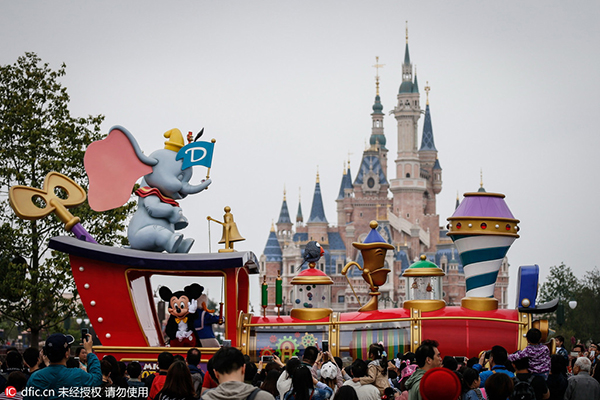 Mickey waves at tourists during a train-themed parade in Shanghai Disney resort on May 13. [Photo/IC]
As many tourists are expected to visit Shanghai Disneyland, which opens on Thursday, local hotels, both budget and high-end ones, have prepared packages to receive them.
Pudong Shangri-La, which is only a 30-minute drive from Shanghai Disneyland, provides a special package that includes, among other things, park tickets and 100-yuan ($15) transportation allowance.
Similarly, Kerry Hotel Pudong, which is only a 20-minute drive from the park, has a partnership with Disney Resort to sell tickets at its Disney Ticket Counter, offering exclusive shuttle service to the resort.
Even though luxury hotel Waldorf Astoria Shanghai on the Bund does not have any specific offer for Disneyland, it has started to offer their summer sales with 25 percent discount from June 1. So, people travelling to Shanghai to visit the park can take advantage of that, said Fabio Berto, director of the hotel's business development department.
Budget hotels and mid- to high-end hotels adjacent to the park have seen their room rates double in the run-up to the park's opening, according to online travel agency Qunar Cayman Islands Ltd.
According to Shanghai Hong Que Information Technology Co Ltd, an information provider on hotel, catering and conference industries, Shanghai Disneyland will boost occupancy rates of local hotels by at least 5 percent in the second half of this year.
Starting from 2014, the resort started to train local talent. It rolled out its first recruitment in October last year. So far, the resort has more than 10,000 casting personnel. Experts estimated that the resort will help create up to 130,000 jobs.
"Hotels, tourism and catering are the three segments that will benefit the most. These three have already seen robust growth in Shanghai. What we will see is probably an increase from the current talent pool. Transportation and infrastructure talent will also be in high demand as more roads are very likely to be built to connect the theme park with many other transportation hubs," said Kang Yi, vice president of multinational human resources company FESCO Adecco.
Disneyland-related talk has caused neighborhood property prices to surge. Ever since the project was approved by the central government, housing prices in Chuansha area, where the theme park is located, have surged by more than three times to the 33,178 yuan per square meter, according to housing agent Lianjia.
"Some of the commercial housing projects have seen their prices surge above 40,000 yuan per sq m in 2015. A new wave of price increases can be expected with the opening of Disneyland. But the real increase will depend on the neighboring transportation and life support facilities," said Zhao Baogen, senior analyst at Lianjia.
Disney-driven consumption is foreseen within the park and in Shanghai. Analysts from CITIC Securities wrote in a note Shanghai Disneyland is likely to generate at least 20 billion yuan in sales for the local retail industry, among which jewelry, premium shopping segments and department stores will benefit the most.