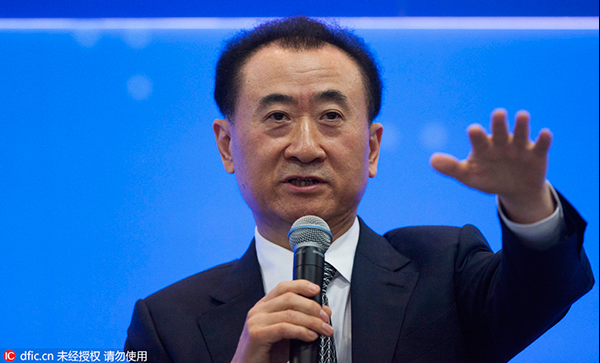 Wang Jianllin speaks during a financial forum in Hong Kong, China, Jan 18, 2016. [Photo/IC]
Chinese group lays down a public challenge as newcomer gets ready to open huge park
Mickey Mouse has a new and deep-pocketed challenger: China's shopping mall king.
The developer that bought Hollywood studio Legendary Entertainment is preparing to fight The Walt Disney Co to lead China's-and possibly the world's-theme park industry.
Wanda Group and its billionaire founder Wang Jianlin is inaugurating a sprawling entertainment complex on Saturday, three weeks before the June 16 opening of Disney's first Chinese mainland park in Shanghai.
Wanda's 20 billion-yuan ($3 billion) site in the city of Nanchang, capital of Jiangxi province, has an outdoor theme park and teacup-shaped buildings that house a shopping mall, cinemas, restaurants, a film park and the world's largest ocean park. It has 10 hotels.
Wanda has lots cash and a huge home market, but lacks Disney's brand power and decades of theme park experience.
Still, Wanda exudes confidence it can win.
Publicly laying down a challenge, Wang said on Sunday he plans to "overtake Disney" as the biggest global tourism company by 2020.
"The frenzy of Mickey Mouse and Donald Duck and the era of blindly following them have passed," said Wang. Disney is "entirely cloning previous intellectual properties, cloning previous products, with no more innovation".
Wang's boldness is a sign of China's growing cultural confidence after three decades of explosive economic growth.
The government is eager to see China create pop culture to rival Hollywood. There was much angst when DreamWorks' first Kung Fu Panda movie came out. Commentators demanded to know why China couldn't make a hit film about its own national animal.
The battle of the theme parks also demonstrates the growing importance of China's public, which has quickly evolved into one of the most important consumer markets.
The government is in the midst of a marathon effort to nurture self-sustaining economic growth by encouraging consumer spending to reduce reliance on trade and investment. Tourism plays a key role in that.
The outlook for theme parks in China is rosy. Annual visitor numbers are forecast to more than double from 133 million in 2014 to 282 million in 2019, according to Euromonitor International, a research company.
Wanda already has three theme park resorts in China that also include other facilities such as shopping malls, theaters and a ski resort. Nanchang is the first of a planned series of "Wanda City" sites meant to mix culture and tourism.
Wanda boasts its "multiple-business model" of rides, film, culture and shopping is an advance over Disney's more narrowly focused entertainment.
"Disney is an old brand, while Wanda is a new one," said Wanda spokesman Liu Mingsheng.
Wanda plans to build 15 to 20 Wanda Cities by 2020, Liu said.
The company's competitive spirit isn't confined to its home turf. Wanda also has ambitions to beat Disney globally.
Wanda signed a deal in February with French retailer Auchan Group to develop a 3-billion-euro ($3.4 billion) project called EuropaCity adjacent to Charles de Gaulle Airport in Paris. That will mean competition for Disneyland Paris.
Both EuropaCity and Shanghai Disneyland have attracted attention from leaders in France and China, reflecting the huge scale of their investment and hopes for tourism to drive economic growth.
Wang met French President Francois Hollande to discuss the 80-hectare project in Paris, which is due to have a theme park, hotels and a conference center.
Wanda, founded in 1988, started out building apartments and shopping malls. Operating cinemas led it into film and then sports promotion.
Wang has said that path follows the transformation of China's economy from one reliant on investment in factories and housing to a consumer market fueled by sales of clothes, entertainment and other goods.
This year, the company acquired Legendary Entertainment, maker of the Batman trilogy, for $3.5 billion, becoming the first Chinese company to control a major US film studio.