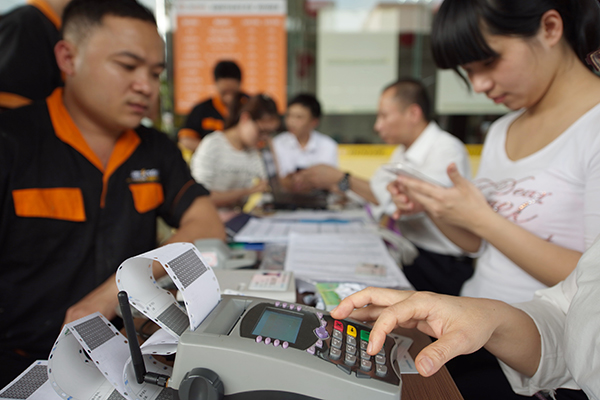 A bank in Qionghai, Hainan province, issues a bank card to a local resident. The China Banking Regulatory Commission has urged all commercial banks to issue bank cards using real names of the holders in a move to fight new frauds. [Photo/China Daily]
A new high-profile bank card skimming case, uncovered by police in Chifeng, Inner Mongolia autonomous region, and repeatedly broadcast by China Central Television's news channel last week, made me feel startled and worried.
The media exposure of the scam, which took the Chifeng police eight months to uncover, issued a warning to the public that a new trend of bank card thefts through point-of-sale terminals, which are conducted in more hidden and harmful ways, may have started to affect our daily life.
The police have urged the holders of bank cards to be careful about possible loopholes in POS machines at retailers, especially at beauty salons, restaurants and entertainment centers.
According to the police in Chifeng, the criminal ring was highly organized through virtual social networks, with the criminals taking on different roles, including the research and development of point-of-sale systems, and the production, maintainance and sale of fake POS terminals.
The hackers loaded their own software onto authentic POS terminals in order to capture customer data and send it to the criminals, who then used it to clone cards and raid accounts via ATMs.
One of the criminals earned 300,000 yuan ($46,200) within a few months by doctoring POS terminals, one of which was installed in a beauty salon. A woman, who paid through the salon's POS terminal, lost 60,000 yuan, and a dozen other customers were also victims.
What really scared me was the fact that the criminals involved came from one virtual hacker group on QQ, an instant messaging service of Tencent Holdings Ltd, and the police found there are 140 such groups on QQ, with each having 300 to 1,000 members. All the hackers communicate in QQ groups with fake names, making it hard to identify them.
The large size of these groups themselves is a huge potential threat to society.
Reports on bank card skimming in recent years have become a major public concern. And this latest scam highlights the security failings and defects in classic payment systems.
Surely the logical answer to the problem is to introduce more secure systems.
The bank card industry is embracing the global trend of embedding microprocessor chips in credit cards, debit cards and mobile phones. It is widely believed that the new technology will better protect everyone's information.
But it will certainly take time before the new system is widely accepted.
Under current conditions, I think strict supervision and internal monitoring are urgent. It should also be a priority of the authorities to develop new protection systems against cybersecurity threats lurking in the systems, such as software that automatically identifies the abnormal transactions of bank cards and provides safeguards against their illegal use.
It also makes sense that third-party payment platforms and retailers have to get moving, sharpen their sense of responsibility and take precautionary measures to safeguard the finances of their customers, and for the sake of their own businesses.
To my knowledge, there is not a reporting system for the purchase, installation and repair of POS terminals, which means there are no qualification requirements for third-party people engaged in POS maintainance services-a serious loophole that supervision authorities must mend.
The skimming of bank cards is not only a problem in China. The Chifeng case is somewhat similar to the one at Target and a more recent one at Home Depot in the United States as reported by the BBC.
So it would be also helpful if we turn to developed economies for cooperation on payment innovation and security to stop breaches of data.
China had issued 5.25 billion bank cards and the number of networked merchants had reached 16 million, while the number of POS terminals and ATMs reached 21 million and 770,000, respectively, by the end of September 2015, according to China UnionPay, the national bank card organization responsible for all domestic bank card transactions.
The bank card penetration rate has surpassed 48 percent and bank cards have helped us a lot, in daily life and economic development.
But if the risks surrounding the use of bank cards are not removed, the functions and advantages of using bank cards will be eroded.
While the priest climbs a post, the devil climbs 10, the old Chinese saying goes.
So let's keep alert when using payment machines. New bank card skimming frauds may be on the horizon.