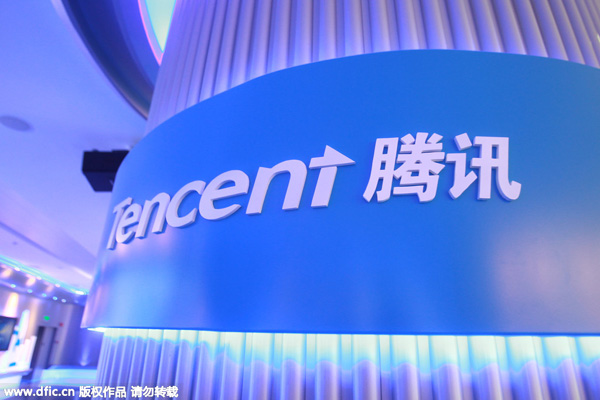 A signage of Tencent is seen at its headquarters in Shenzhen city, South China's Guangdong province, March 29, 2013. [Photo/IC]
Market-driven firms surpass State-owned enterprises in worth
The value of China's top 100 brands surged 13 percent to $525.6 billion last year despite the country's economic slowdown, an annual survey released on Monday showed.
And, for the first time ever, market-driven brands that are owned by entrepreneurial companies contributed more than half, or some 51 percent, of the value of the top 100, surpassing the State-owned enterprises, the survey known as the BrandZ Top 100 Most Valuable Chinese Brands said.
The 2016 edition of the survey was released in Beijing by the New York-based research firm Millward Brown, which owns BrandZ, and the communications group WPP Plc.
It said the result showed evidence of China's continuing transition to a market economy.
"The robust increase in brand value reflects the continued optimism of Chinese consumers, while demonstrating how resilient strong brands are in times of economic turbulence," said Doreen Wang, global head of BrandZ.
Personal care and jewelry were the fastest-growing categories in terms of brand value, followed by real estate, insurance, airlines and travel agencies, the survey revealed.
This is evidence that consumers are still spending on nonessentials, luxuries and big-ticket items, Wang said. They are also spending more on products relating to personal care and health, she added.
According to the survey, Tencent remains China's most valuable brand, growing its value 24 percent to $82.1 billion, followed by China Mobile at $57.2 billion and Alibaba at $47.6 billion.
The highest new entrants were telecoms brand Huawei, ranking seventh with a brand value of $18.5 billion and online retailer JD.com Inc that ranked 15th with a value of $9.4 billion.
Huawei has a strong worldwide presence and its smartphone business has been a powerful growth engine while JD, a challenger to Alibaba Group Holding Ltd, has benefited from the expansion of its mobile offering, the worldwide extension of its e-commerce platforms and partnerships with premium international brands.
"China is the most dynamic market in the world in terms of mobile use, and companies that intend to build their brands there should not underestimate the speed of the digitalization and mobilization wave," said Wang.