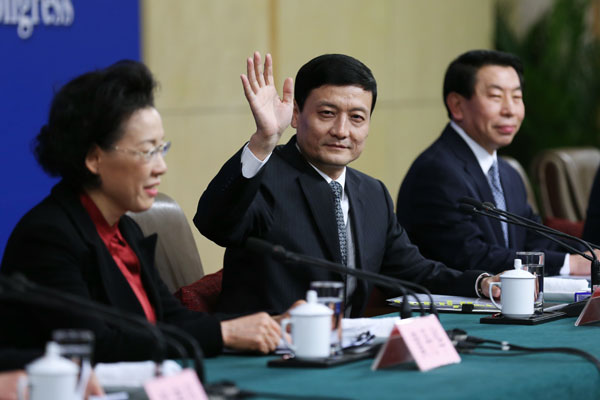 Xiao Yaqing (C), chief of the State-owned Assets Supervision and Administration Commission of the State Council (SASAC) greets journalists at a press conference on the reform of state-owned enterprises on the sidelines of the fourth session of the 12th National People's Congress in Beijing, March 12, 2016.[Photo by Wang Zhuangfei/chinadaily.com.cn]
Profits of China's central State-owned enterprises or SOEs in the first two months of this year grew 4.7 percent from the same period last year.
This marks a turnaround from the 32-percent slump in profits last year over 2014, according to the head of the regulator of SOEs.
At a media conference in Beijing on Saturday, Xiao Yaqing, chairman of State-owned Assets Supervision & Administration Commission or SASAC, recalled that last year's profits fell due to the plunge in the prices of crude oil and commodities.
Full-year profits of central SOEs fell 6.9 percent last year, Xiao said. In China, central SOEs concentrate on sectors like oil, gas and metal.
Output of central SOEs accounted for nearly 10 percent of China's total corporate output, according to the SASAC.