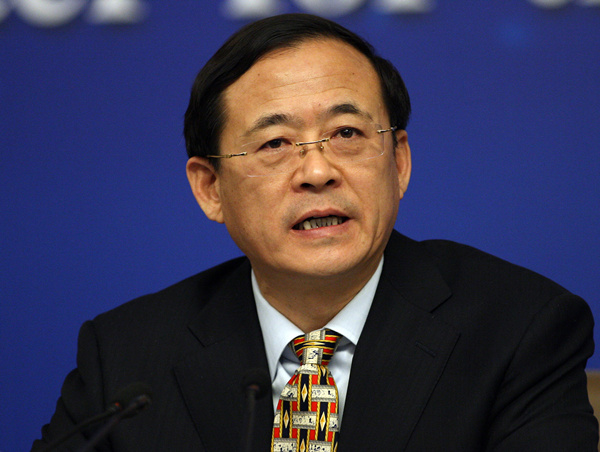 Liu Shiyu, new head of China Securities Regulatory Commission.
Liu Shiyu, the newly appointed head of China's securities watchdog to replace Xiao Gang, faces a daunting task in making the equity market more market-oriented and in cracking down on illegal activities.
Dong Dengxin, a finance researcher at Wuhan University of Science and Technology, said, "I think the China Securities Regulatory Commission chairman has a challenging role.
"The Chinese capital market has not reached a high market oriented and law-based level, so the public relies heavily on the government and this puts pressure on the job.
"Therefore, launching registration based IPO reform and refining the Securities Law can be two focuses for the new chairman."
Li Shuguang, a law professor at China University of Political Science and Law, said Liu's appointment before the annual sessions of the country's top legislature and advisory body next month shows that the central government is paying attention to the capital market, which plays a positive role in China's economic transformation.
Li, who knows Liu, said the new CSRC chief is experienced in financial market regulation and risk control. "For Liu, cracking down on illegal activities and protecting small and medium investors' interests can be important tasks," Li said.
He said the securities watchdog should help with the amendment of the Securities Law and implement this well, based on laws and rules.
JianYang, a professor of finance at University of Colorado Denver, said the watchdog would be more prudent in introducing new rules.
Hong Hao, managing director and chief strategist at BOCOM International, said: "The replacement of the stock market watchdog head announced over the weekend can be mildly positive for the stock market this week, as the market hopes for a new supportive policy. But in the long term, fundamentals will determine market direction."
Bernard Dewit, chairman of the Belgian Chinese Chamber of Commerce, said the replacement is aimed at restoring investor confidence and showcasing the determination to get the market's performance back on track.
"This is a step that has attracted global attention, and I'm sure that markets worldwide will respond accordingly on Monday," Dewit said.
He added that China's economic fundamentals are sound, its potential is huge and both factors will help to develop a healthy capital market.
Xiao Gang, 57, a former head of the Bank of China, had been CSRC chief since March 2013. During Xiao's tenure , unchecked leverage triggered a jump in equity prices in late 2014 before the market collapsed in June last year, leading to government stock purchases, restrictions on the sale of stakes and a temporary ban on IPOs.
Hong, of BOCOM International, said, "While there has been much criticism of Xiao, the market's compound annual return during his tenure was the highest among the past four CSRC chairmen."