A larger venue, more categories of exhibits and more cultural elements will be the highlights the fifth China-Eurasia Expo, scheduled to be held in Urumqi, capital of Xinjiang Uygur autonomous region, from Sept 1 to 6, organizers said.
The event, held under the theme of "joint discussion, joint development and sharing: opportunity and the future for the core zone of the Silk Road", will have 14 exhibition areas for industries. There will also be many forums on subjects such as financing, energy, technology and industrial cooperation.
With the completion of a new exhibition center, the expo will double its exhibition space to 160,000 square meters, including about 40,000 sq m of outdoor area.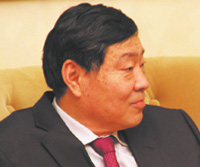 Shi Dagang, chairman of Xinjiang Uygur autonomous region. 
There will also be trade and cultural promotion campaigns.
"With well-equipped facilities, first-class business services and abundant trade activities, the expo this year will provide an efficient and convenient exhibition and trade environment for international exhibitors and buyers," said Shi Dagang, chairman of Xinjiang Uygur autonomous region, at a news conference on Jan 27 in Beijing.
"The event is more influential than ever," Shi said. "Eurasian countries have been actively participating in the expo in recent years, not only bringing their products, but also displaying their culture by organizing campaigns."
He said organizers will pay more attention to cultural activities this year. They have planned areas at the exhibition venue for foreign countries to hold cultural week programs. There will also be cultural activities before and after the expo.
Exhibits in the expo's early years mainly featured machinery and electronics, but have now expanded to emerging sectors such as new energy and biotechnology, he said.
He added that the expo has greatly helped Xinjiang's economic growth by attracting investment and encouraging the development of new industries in Xinjiang.
The clothing manufacturing industry attracted nearly 50 billion yuan ($7.6 million) of investment last year. Investment from Xinjiang's private sectors has been growing by 100 billion yuan annually in recent years, Shi said.
Sun Chenghai, director-general of the Foreign Trade Development Bureau at the Ministry of Commerce, said the expo has become a major platform for China to establish cooperation with countries along the Silk Road Economic Belt.
"The importance of this route will only grow every year," said Batyanovsky Leonid, a senior counselor at the Belarusian embassy in China. "The expo will undoubtedly ensure closer trade, economic cooperation and regional relationships."
He said Belarus, which has participated in every expo, will participate again this year. He also said there is much potential for cooperation between Belarus and Xinjiang in agriculture, machinery, logistics and culture.
The China-Eurasia Expo was upgraded from the Urumqi Foreign Economic Relations and Trade Fair, which was held every year from 1992 to 2010, to a State-level expo by the State Council.
The first expo was held in 2011. After the 2014 event, it was rescheduled to a biennial event. About 1.23 million visitors from more than 60 countries and regions have taken part in the expos.