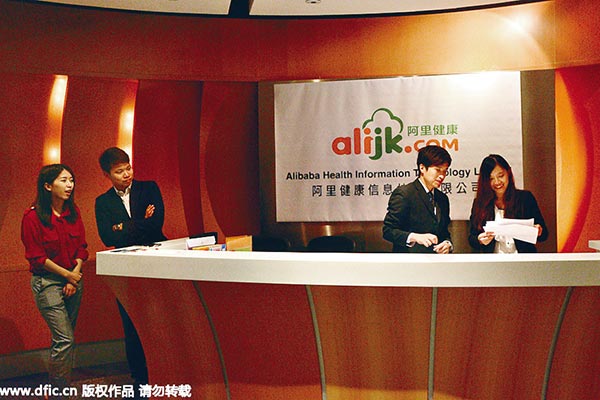 Chinese employees are seen at the reception desk of Alibaba Health Information Technology in Hong Kong, November 24, 2014.[Photo/IC]
Alibaba Health Information Technology Ltd share prices witnessed a plunge of more than 20 percent on Thursday after news reports saying it is likely to lose its operational rights to China's Drug Electronic Regulation Platform.
The project led by the China Food and Drug Administration as an effort to protect patients from counterfeit pharmaceuticals is one of the major powerhouses that drive the Hong Kong-listed digital healthcare company's business.
According to media reports quoting industry sources a deputy director of the CFDA said in an internal meeting on Tuesday that the administration will take back the operational right of the drug electronic platform from Alibaba Health.
CFDA was not able to be reached for comment. A spokesperson of Ali Health said it hasn't received any notice regarding the issue from CFDA.
The Hong Kong-listed Alibaba Health said in a statement on Thursday that it has noted the unusual movements in the price or trading volume of the shares. And it confirms it is not aware of any reasons for these price or volume movements or of any information.
A Chinese drug retailer brought a suit against the CFDA, accusing the administration of giving the operational rights of a national drug regulation platform to a commercial organization.