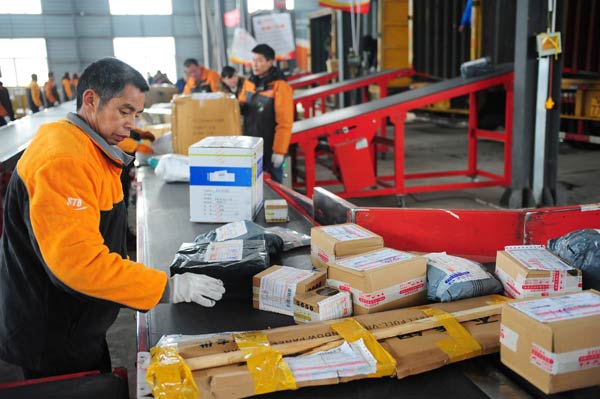 Workers sort parcels at a delivery company in Fuyang, Anhui province.[Photo/China Daily]
China's top 10 provinces will get priority to establish comprehensive cross-border e-commerce pilot zones, a top official said.
Most of these cities are those with good infrastructure, trade and a strong e-commerce base, Zhang Ji, assistant minister of commerce, said on Friday.
His comments came after the executive meeting of the State Council on Wednesday decided to extend the success of the China (Hangzhou) Cross-Border E-Commerce Comprehensive Pilot Zone across the country.
Zhang, however, clarified that the zone selection would be based on rational distribution across the east, central and western regions.
China currently has 10 cities, including Shanghai, Chongqing, Zhengzhou and Shenzhen that are entitled to carry out import and export for cross-border e-commerce and more than 20 cities such as Changsha and Shenyang that can undertake cross-border e-commerce for exports.
"The newly selected pilot zones should replicate the experience of Hangzhou and establish their own development reality," said Zhang at a news conference held by the State Council Information Office in Beijing.
After six months' development, cross-border e-commerce transactions in Hangzhou grew from less than $20 million in 2014 to $3.04 billion by November. At least 12 new cross-border e-commerce business parks have been built and attracted about 330 enterprises.
The city's exports between January and November of last year stood at $39.92 billion, up 3.8 percent on a year-on-year basis, markedly higher than the rate of Zhejiang province and the national average.
The new zones will include a one-stop financial service system, exchangeable information, mutually recognizable administration and interdependent law enforcement among different government departments.
Zhang said the objective of the trial is to gain experience for the country. It is a new area of innovation rather than a haven of indulging policies. Other regions should explore boldly within the confines of current policies and their capacity. Experience accumulated in the trial can be reproduced and used by other regions.
Li Guanghui, vice-president of the ministry's think tank, the Chinese Academy of International Trade and Economic Cooperation, said more cross-border e-commerce pilot zones will attract export-oriented firms, advance the growth of new business models and lead to efficient administration.
"This will provide more job opportunities and help the Chinese export industry reorient itself and win more advantages," said Li.