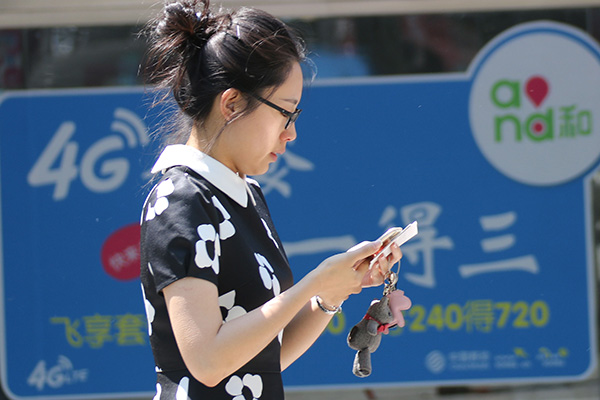 A mobile phone user walks past a logo of China Mobile's 4G service in Qingdao, Shandong province. [Photo/China Daily]

Firm expects to have 500m users of service by end of next year
China Mobile Communications Corp, the world's largest telecom carrier by subscribers, is planning a 4G explosion next year to maintain its edge in the telecom market amid stiff competition from domestic peers.
Shang Bing, chairman of China Mobile, said on Tuesday: "Though we have built the world's largest 4G network, we need to expand it to more consumers and put more cutting-edge technologies into commercial application."
In his first public speech after taking the helm at China Mobile, Shang said the company aims to have 500 million 4G subscribers and 1.4 million 4G base stations by the end of next year.
As of November, China Mobile has built more than 1 million 4G base stations and its 4G users stand at more than 267 million, more than that of its arch rivals China United Network Communications Group Co Ltd and China Telecommunications Corp combined.
To attract more users, he said the carrier plans to achieve commercial application of VoLTE technologies in more than 260 cities by mid-2016.
VoLTE stands for voice calls provisioned over a 4G LTE data network, rather than the 2G or 3G networks that are commonly used. It is a 4G plus technology that allows users to conduct better quality voice calls and high-definition video calls. LTE stands for long-term evolution, a standard for wireless communication of high-speed data for mobile phones and data terminals.
Xiang Ligang, founder of the telecom industry website cctime.com, said the goals are within the capabilities of China Mobile and the company is capable of implementing them.
"China Mobile currently has more than 500 million non-4G users. As 4G smartphones and 4G data packages become more affordable, most of them will naturally upgrade their gadgets to 4G services. So it is an easy job for China Mobile to reach the target.
"The real challenge lies in how to maintain its leading edge, especially as it faces competition from the combination of China Unicom and China Telecom," he said.
Last week, China Unicom and China Telecom held a joint press conference, the first of its kind in the country's telecom history, to call for the standardization of smartphone technologies so that they can acquire more 4G users by selling contract phones supporting six different network technologies.
The move came shortly after the two companies signed a deal in October to jointly construct 4G base stations and share 4G resources.
"The fast application of VoLTE technology can give China Mobile an edge, but the company will face fiercer competition next year," Xiang said.
Shang also promised to explore new ways to build a more open platform.
"We will conduct more acquisitions and investments to expand our presence in the Internet industry chain and to boost innovation," he said.