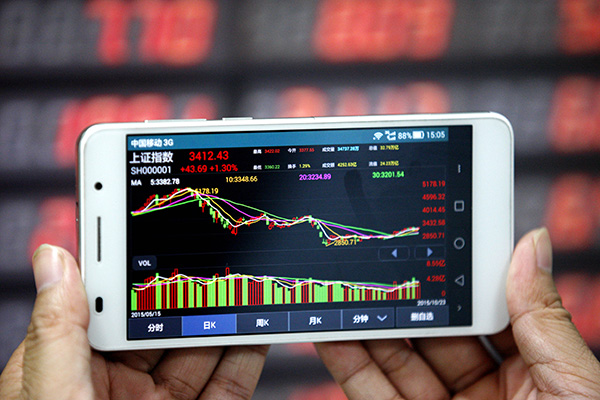 A stock indicator shows the benchmark Shanghai Composite Index on Oct 24, 2015. [Photo by Xie Zhengyi/Asianewsphoto]
More than 1,000 firms listed on the National Equities Exchange and Quotations (NEEQ) have appointed market makers since the system was introduced last August, reported National Business Daily.
The NEEQ, or better known as the "New Third Board", has seen turnover spike over the past year, as the percentage of listed companies using market makers rose from 7.7 percent to 22.7 percent.
Under current rules, NEEQ-listed companies can trade their shares via OTC agreements, market makers and private bidding. However, a much anticipated open price-bidding is yet to be included.
Last week, transaction volume through market makers rose 14.4 percent to 899 million, and volume through agreements surged 15.5 percent to 312 million, marking a strong pickup, according to the newspaper.
The Beijing-based New Third Board introduced the Market Maker system to make valuation of technology and startup firms more reliable and help the financing of small-to-mid-sized enterprises. The market only allows access to investors with a minimum asset of 5 million yuan.
As of Thursday, 4,451 firms ranging from media and education corporations to fund companies are listed on the NEEQ, exceeding the combined number of firms listed on the Shanghai and Shenzhen stock exchanges.