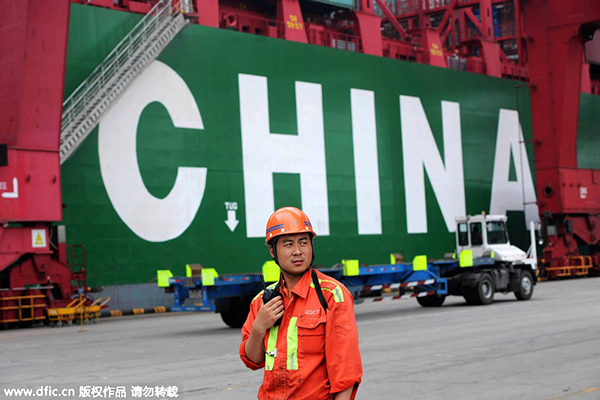 A stevedore works at Qingdao port in Shandong province, July 1, 2015. [Photo/IC]
Channels to be opened until January to collect suggestions, according to top economic regulator
China's top economic regulator is seeking advice from foreigners on the country's new five-year development plan.
The National Development and Reform Commission wants to gather experience from overseas to guide annual growth of no less than 6.5 percent.
Advice from abroad is important to improving the 13th Five-Year Plan (2016-20), especially as the country's opening-up is deepening, said Hu Zucai, deputy head of the commission, at a news conference on Thursday.
Various channels will be opened for foreigners to offer their advice from now until January, Hu said, including columns in various media and seminars with foreign chambers of commerce.
The State Council, China's Cabinet, announced the new plan on Nov 4 based on a proposal that was raised after the 5th plenary session of the 18th Central Committee of the Communist Party of China last month.
'Timely feedback'
"All the suggestions that we collect will be studied by experts, and we guarantee that not a single suggestion will be overlooked. We will also give timely feedback," said Hu.
A draft of the plan, including advice from the public, will be submitted for review and approval by the National People's Congress in March.
Under the proposal, the government's core task is to double GDP by 2020 from the 2010 level.
The calculation showed that the "bottom line" for the annual growth rate should be 6.5 percent, or maintaining a medium-high growth rate to achieve the goal of "moderate prosperity" by 2020.
"We have confidence we will achieve the target, although downward pressure still remains," said Hu.
He stressed that the huge Chinese consumer market will provide a sufficient buffer to prevent a sharp slowdown during the restructuring process, and it will finally support strong growth in the long term.
The National Bureau of Statistics released major economic indicators for October on Wednesday. They showed a solid growth trend in retail sales while manufacturing and fixed-asset investment growth came in lower than expected.
Zhu Haibin, chief economist in China for JPMorgan Chase & Co, expected manufacturing to pick up moderately from November onward, benefiting from recent policy adjustments.
"In addition to recent moves on the monetary policy front, notable fiscal adjustments have been made to mitigate the constraints faced by local governments and support infrastructure investment," he said.