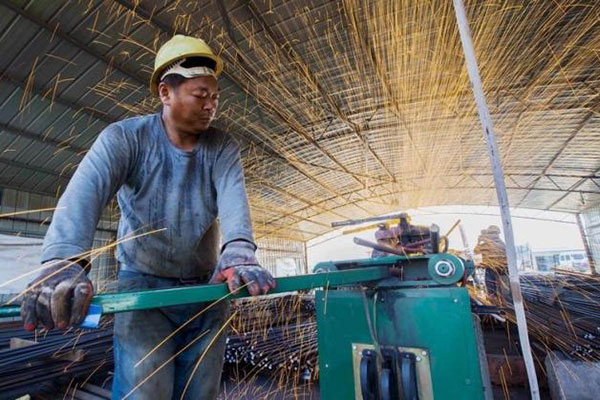 A labourer cuts steel bars at a railway bridge construction site in Lianyungang, Jiangsu province, September 12, 2015.[Photo/Agencies]
Growth in China's factory output eased in October while that for retail sales edged up and investment inched lower, indicating persistent downward pressures on the economy that may require further policy support.
Factory output grew slower than expected at an annual 5.6 percent in October, National Bureau of Statistics data showed on Wednesday, missing a Reuters forecast of 5.8 percent and down from 5.7 percent in September.
Fixed asset investment rose 10.2 percent in the first 10 months, slightly slowing from a 10.3 percent gain in the January-September period. Analysts polled by Reuters had forecast a 10.2 percent rise.
Retail sales growth continued to pick up, expanding at 11.0 percent in October, compared with 10.9 percent in September. Analysts had forecast growth of 10.9 percent in October.
"In general, the data is not encouraging, albeit stabilizing somewhat. The manufacturing sector is slowing significantly due to sluggish demand," said Zhou Hao, senior emerging markets economist at Commerzbank in Singapore.
"Property investment remained low, which has failed to turn around the momentum of overall investment. While consumption outperformed somewhat, the overall growth profile still remains weak, weighing on the overall growth as a result."
Wednesday's mixed activity data came on the heels of muted inflation and disappointing trade figures.
NBS data published on Tuesday showed consumer inflation moderated more than expected in October, while producer prices extended their decline to a 44th straight month.
October trade figures widely missed forecasts, with exports falling 6.9 percent and imports tumbling 18.8 percent.
Against the backdrop of tepid investment and factory overcapacity, a vice finance minister assured reporters on Tuesday that the country is confident of achieving economic growth of around 7 percent this year, which would be the slowest pace of expansion in a quarter of century.