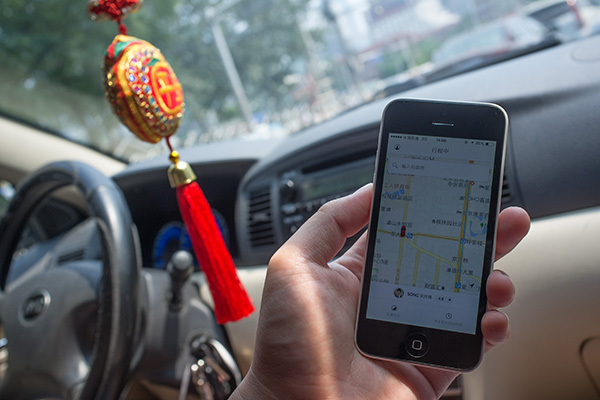 car-hailing services are still under heated debate in china and their future is uncertain. [Provided To China Daily]
Draft regulation seeks to integrate private cars into taxi management
The Ministry of Transport concluded soliciting public opinion in preparation for drafting regulations on app-based car-hailing services and a guideline about improving the development of the taxi industry on Tuesday.
The controversy between car-hailing services and the traditional taxi industry is far from over.
Issued last month, the draft regulation and guideline intend to integrate online car-hailing services into the taxi management system and raise the entry standard for drivers.
The drafts stipulate that drivers of private cars obtain a license certificate to offer rides for payment through car-hailing platforms.
Because the drafts concern the interests of many people, they have drawn a great deal of attention and discussion by the general public.
The ministry said it received 6,832 opinions. About 903 of those only showed support or opposition to the drafts, while 5,929 gave detailed opinions and suggestions.
The three most mentioned topics were all related to car-hailing services, with 1,022 opinions on whether app-based car-hailing services should be managed and how.
In addition, 1,020 responses discussed the conditions and qualifications of cars and drivers that offer hailing services, and about 1,060 were related to things such as meters and identification of those cars.
"The reason for drafting the guideline and regulation is to ease traffic in big cities and improve taxi services," China Newsweek quoted Liu Xiaoming, a senior official of the Ministry of Transport, as saying.
"The purpose of reforming the taxi market is to serve the people," Liu said.
Liu said the ministry encourages and standardizes the development of online taxi services. The two drafts are temporary policy. "Opening them for public opinion is to respect the will of the people and abide by the law, so the people feel ownership of our reform," he said.
Wang Xiuchun, a taxi management official with the ministry, was quoted by Xinhua News Agency as saying the ministry hopes the pending changes will reduce taxi fees and improve drivers' incomes, while also making taxis more attractive than private vehicles.
In the past, the ministry has several times taken a stand against private vehicles being involved in taxi services.
In China, most taxis are owned and managed by taxi companies. The drivers have to pay a high deposit for the vehicle and monthly franchise fees to the companies.