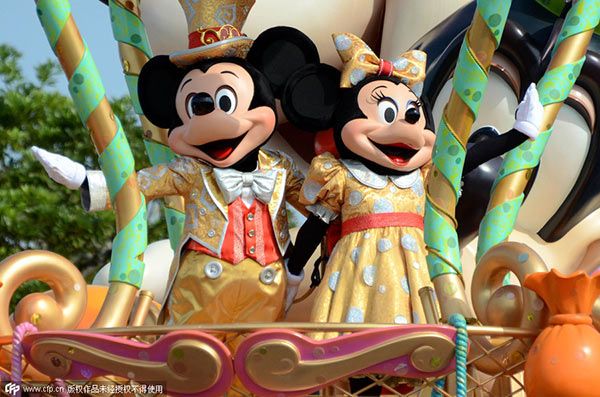 An annual "Happy Halloween Harvest" parade performs at Tokyo Disneyland in Urayasu, east of Tokyo, on Sept 23, 2015. [Photo/CFP]
The first in a series of jobs fairs will be held by Shanghai Disney Resort next week, in anticipation of its scheduled opening early in 2016, aimed at attracting people with tourism and service industry experience.
Staff will be sought for each section of the new resort, said Philippe Gas, its general manager, including ride operations, guest services, retail, food and beverage, engineering and maintenance, security, hotel operations and entertainment.
The first fair will be held from Oct 21 to Oct 24, and others are likely later in the year.
"We look forward to hiring and training great local talent who will deliver hospitality and services to help guests make memories that last a lifetime," said Gas.
"The resort is committed to building a world-class destination and delivering the highest level of service to our future guests."
The first two days of next week's event will be exclusively for pre-registered candidates who have submitted online applications in advance, with the second two days open to the general public.
Lara Tiam, the resort's vice-president of human resources, said the company was committed to providing on-the-job training programs to help cultivate local talent and support the overall development of the service industry.
The resort already employs more than 1,500 staff, or "cast members" as Disney calls them, working on the development and operation of the new site.
Officials say, however, that number will expand rapidly, with thousands of job openings likely in the following months.
Located in the Pudong New Area, the sixth theme park of The Walt Disney Co is scheduled to open in the first few months of next year, featuring what the company claims are classic Disney characters blended with all-new experiences tailored specifically for China.