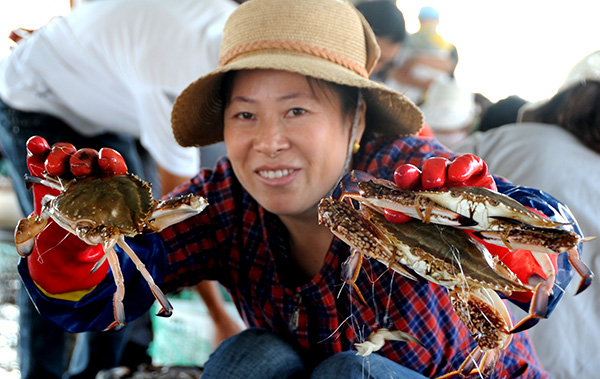 A woman holds three sea crabs at a Lianyungang wharf in Jiangsu province. Sales of seafood products are popular on Chinese e-commerce platforms. [Photo/China Daily]
Yao Boda was born on the small island of Tongtou near Ningbo, a coastal city in eastern Zhejiang province, and grew up catching shrimps and crabs.
As a child, he watched his grandfather head off to work as a fisherman, braving the whims of the East China Sea. Now, 30 years later, Yao is riding a different wave and using the e-commerce boom to transform the traditional seafood sector.
Last year, he set up Shanghai Import Fresh Co Ltd, which specializes in importing seafood from countries such as Japan and Norway.
"Traditionally, it was impossible for small businesses to import seafood from foreign suppliers because they had to buy between 20 tons to 25 tons of produce at a time," Yao, 39, said.
"Most small seafood businesses, or restaurants, are looking for orders worth several thousand yuan a time."
Spotting a gap in the market, his company rolled out the online platform , which acts a "middle man" for the industry's army of family-owned vendors.
"Now they can place orders online and we will source the products directly from foreign countries or the major distributors," Yao said.
"With long-term partners in dozens of countries, we can help small businesses access the best seafood at the lowest prices."
Since Shanghai Import Fresh is privately owned, there are not detailed financial figures. But so far, its online platform has reported sales of 2 million yuan ($314,000) for the past four months.
With numbers like these, it is hardly surprising that this sector of the massive e-commerce market is proving popular as China's online shoppers show a growing appetite for imported fresh products.
This has resulted in the rapid expansion of business to business, or B2B, sites, and specialized food platforms for consumers.
"The emergence of online platforms is starting to boost the efficiency of global sourcing and delivery services," Zhang Xiangli, an e-commerce analyst at iResearch Consulting Group in Beijing, said.
One of the largest sites is 1688.com, a B2B owned by Internet giant Alibaba Group Holding Ltd.