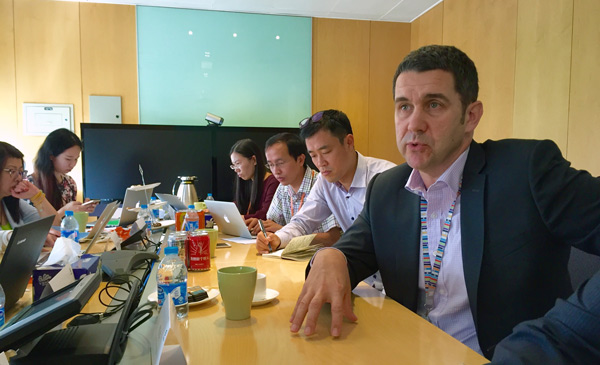 Chris Houghton (right), Ericsson's head of Region North East Asia, answers questions on September 21, 2015, during his first meeting with Chinese press held in Beijing. [Liu Zheng/chinadaily.com.cn]
Six weeks after he took the post, Chris Houghton, Swedish tech giant Ericsson's head of Region North East Asia, held his first meeting with the press in Beijing to discuss his ambitions for the company and optimism about business in the region.
"I've started to learn the 'Internet Plus' initiative with my team since I took the job in the previous weeks," said Houghton. He believes that the implementation of the initiative process will bring many business opportunities to the company.
Ericsson has been working in manufacturing for many years in China and will continue to do so to benefit and serve their customers, Houghton told chinadaily.com.cn.
Houghton was appointed to his new position on Aug 1 and continues as a member of Ericsson's Global Leadership Team (GLT).
Prior to this position, Houghton was Ericsson's head of Region India. He successfully managed Ericsson's operations in India during his two years in the country and enabled Ericsson's operations in the region to grow into the company's largest employee base.
"Ten years ago, I was in Beijing to help on an Ericsson's assessment course. Within 10 years, I've seen the change in Beijing has been tremendous. I never dreamed about having a job here when I was a new graduate in the organization," Houghton said.
China is a very competitive market and it owns very demanding business consumers and individual customers, Houghton said. He expressed optimism about Ericsson's future development in China and claimed that the challenge will make it become stronger.
"We have to deliver to our customers what they want, and if you deliver your promises they will be coming back," Houghton said. "China is the second largest R&D center that we have built in the world, the explosion of start-ups and the Internet Plus initiative here will have a global impact."
5G development on the go
Ericsson annually invests $5 billion on research and development with regard to improving the speed of the Internet, including the Radio Dot System. That system is designed to address both consumer and business users' performance expectations indoors and to remove broadband capacity bottlenecks in large buildings.
The company is making considerable efforts on 5G development and South Korea has already stated that they will demonstrate their 5G technologies, which are powered by Ericsson, during the 2018 Pyeongchang Winter Olympic Games.
"On the macro level, 4G has rolled out to an end while it still has plenty of work to do on the indoor side from the coverage perspective," said Houghton. He pointed out that 4G will continue to be used as the world steps into the 5G era and we will see different uses of the revolutionary shift from 4G to 5G.
"Ericsson will work actively to support the 2022 Winter Olympics Games that will be held in Beijing and Zhang Jiangkou and fuse the technology with the development of the overall industry and society to boost the commercialization of 5G," said Chang Gang, chief marketing officer of Ericsson North East Asia.
Ericsson's footsteps in China
More than 40 percent of the world's mobile traffic goes through Ericsson networks and Ericsson supports customers' networks serving more than 2.5 billion subscribers. The networks Ericsson manages for operators serve more than 1 billion subscribers. Ericsson has 37,000 granted patents, comprising one of the industry's strongest portfolios, and is the fifth largest software supplier in the world.
In 2014, China was the second largest market for Ericsson in terms of sales, contributing 6 percent of total sales of the Ericsson Group.
China is also a strong foothold for Ericsson's R&D, manufacturing and services activities worldwide.
In December 2000, when the Chinese government issued the Tenth Five Years' Plan, Ericsson presented its 2001-2005 development plan in China, and highlighted four focal points, including high-tech investment, job opportunities creation, export increases and human resource development in China. This marks Ericsson's solid steps to implement its "Core China" strategy.
Years after that, Ericsson has kept upgrading its production base in China to become one of its three major global supply hubs.
Currently, Nanjing Ericsson Panda Communication Co Ltd has grown into Ericsson's largest supply and manufacturing hub, supporting the company's global supply network, and providing products for GSM, WCDMA, LTE and TD-LTE to more than 100 countries.
Ericsson's annual R&D investment in China exceeds $310 million. With nearly 5,000 employees in Beijing, Shanghai, Guangzhou, Nanjing, Chengdu and Shenzhen actively engaged in R&D and product development of the entire Ericsson portfolio, China has become the largest and a truly global R&D base for Ericsson worldwide, outside Sweden.
As early as 2004, 3G/WCDMA base stations developed and manufactured by Ericsson China were supplied to Ericsson's customers overseas.
Dedicated R&D teams are currently working on 4G, both for TD-LTE and FDD LTE, providing the most efficient and effective support to operators with their rapid deployment of 4G LTE networks in China and abroad.
Ericsson is also working closely with the Chinese government, academia and the entire ecosystem in China to drive the global standardization of 5G, the next step in the mobile communications evolution.