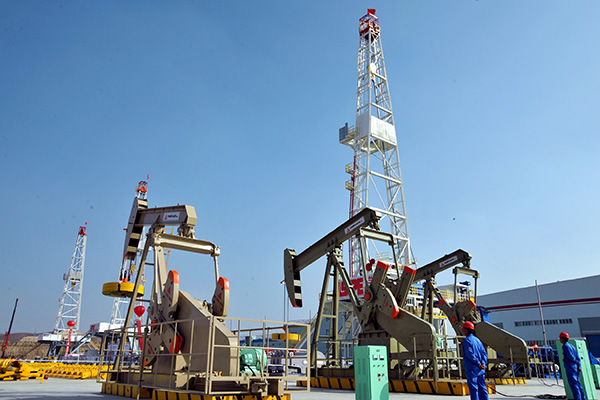 High-end drilling equipment being tested at Lanzhou LS Group Co Ltd's industrial park, which was completed in October last year after 16 months of construction, with an investment of 18 billion yuan ($2.9 billion). [Photo/China Daily]
BEIJING - China's industrial restructuring has helped cut electricity consumption and freight transportation, while the economy has maintained a medium-to-high growth rate in the first six months, said Zhang Xiaoqiang, executive deputy director of China Center for International Economic Exchanges.
Zhang admitted that there were some doubts about China's economic growth rate in the first half (H1), as two key indicators of economic growth, namely power consumption and freight volume, dropped remarkably.
China's GDP expanded 7 percent in the first six months this year from the same period last year, slightly down from 7.4 percent in 2014.
Power consumption, however, only expanded 1.3 percent in the first six months, sharply lower than 5.3 percent posted last year. Freight volume expanded 4.2 percent, down from 7.5 percent last year.
The industrial sector grew at a slower pace in H1, while the service sector has become a major engine for the economic growth, said Zhang, adding that the industrial sector consumes more energy per unit of GDP than the service sector.
In freight transportation, China's coal, steel and cement industries have been subject to restructuring and, thus, their output has dropped, leading to slowdown in growth, he said.
The discrepancy between economic growth and the two key indicators's growth in the first six months did not fit with previous patterns, but industrial restructuring is a new factor, and should be taken into account when analyzing the new situation, he said.