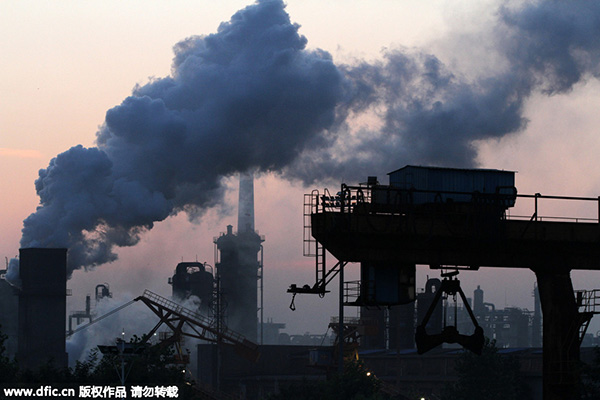 The Chinese government is accelerating investment in environmental protection, with the total investment into the protection of water, air and soil soon totaling $1.37 trillion. [Photo/IC]
China said on Friday that it plans to launch a national emission trading system in 2017, part of a joint presidential statement issued by China and the United States on Friday.
It will inject new political energy into climate change talks ahead of December's UN climate summit in Paris.
The trading system will cover power generation, steel, cement, and other key industrial sectors, as well as implement a "green dispatch" system to favor low-carbon sources in the electric grid.
Trials in seven locations began in 2011, but the plan indicated that the creation of a carbon trading market and putting a price on greenhouse gas emissions has become a national-level strategy, experts said.
Yang Fuqiang, a senior adviser on climate change, energy and environment at the National Resources Defense Council, said climate change has increasingly become a highlight for China-US cooperation, as the two nations are the world's largest emitters and need to work more closely for the common good on other core issues besides trade and the economy.
The move is a step forward under the deal reached between leaders of two countries in November, during US President Barack Obama's state visit to Beijing. China pledged to cap carbon dioxide emissions around 2030 and make its best effort to cap them earlier, in a joint China-US announcement at the time.
China and US are developing new heavy-duty vehicle fuel efficiency standards, to be finalized in 2016 and implemented in 2019. Both countries are also stepping up their work to phase down superpolluting hydrofluorocarbons.
The two countries also announced further steps to help accelerate the transition to low-carbon development internationally, including a new climate finance commitment by China of 20 billion yuan ($3.1 billion) to help developing economies combat climate change and new steps to control public support for high carbon activities. The two countries also reaffirmed their commitment to bilateral cooperation, both at the federal and subnational levels.
Since 2011, China has launched pilot projects for carbon trading in locations that include Shenzhen, Beijing, Shanghai, Tianjin and Chongqing, and in Hubei and Guangdong provinces.
Li Shuo, senior climate and energy policy officer at Greenpeace East Asia, said creating a national market and putting a price on greenhouse gas emissions, particularly in energy-guzzling and highly polluting industries, will help China implement its climate change goals as well as help it realize a revolutionary transition from coal to renewable energies.
The plan is part of China's larger strategy to promote green, low-car-bond evelopment and meet its goals for cutting greenhouse gas emissions. Its commitment is expected to galvanize delegates going into this year's climate change summit in Paris, experts said.
In late June, the central government submitted proposals for cutting greenhouse gas emissions to the UN Framework Convention on Climate Change.
In June, during a visit to Paris, Premier Li Keqiang announced the nation's ambitious targets for cutting energy consumption per unit of economic output by 60 to 65 percent from its 2005 level.
The blueprint also includes green energy rules to increase renewable energy into the electrical grid, to improve the energy efficiency of green buildings.