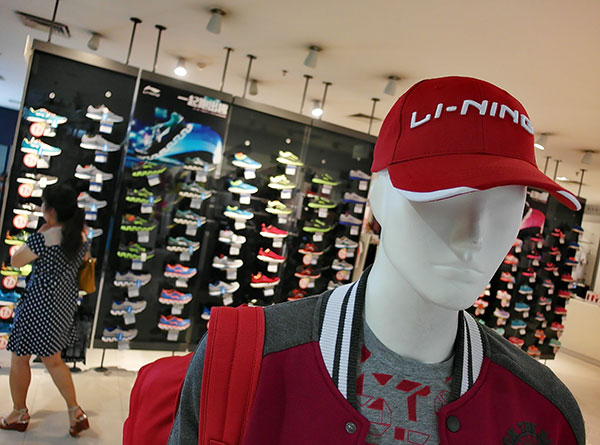 Products on display at a Li Ning store in Yichang, Hubei province. [Liu Junfeng / China Daily]
Sportswear firm benefits from measures to cut expenditure
Chinese sportswear maker Li Ning Co Ltd on Thursday posted a narrower first-half loss as it resumed opening new sales outlets in lower-tier cities after years of restructuring, and said it aims to return to profit by the end of this year.
The stock jumped more than 9 percent in early trade to HK$4.26, its highest since June 4 and outpacing a 0.6 percent rise in the benchmark Hang Seng Index.
Chairman Li Ning said in a filing to the Hong Kong bourse that the company would expand its sales network mainly in southern China in the second half while maintaining reasonable inventories.
"The company will continuously improve its operating efficiency, step up controls over operating costs and strengthen cash flow management in its bid to return to profits by the end of the year," Li said.
The company, which faces off in China against global industry giants like Nike Inc, said its net loss narrowed to 29.4 million yuan ($4.60 million) in the first half from a 585.8 million yuan loss a year earlier, while marking its sixth consecutive six-month loss.
China's best known home-grown sportswear maker, whose investors include private equity firm TPG Capital Management and Singapore sovereign wealth fund GIC, said first-half revenue jumped 16 percent year-on-year to 3.6 billion yuan. Its gross profit margin rose to 44.9 percent from 44.6 percent.
Beijing-based Li Ning has started expanding again, with net growth in the number of points of sale in the first half for the first time since 2011, and 42 percent growth in the yet-to-be-fully-tapped southern China region.
Trade fair orders for deliveries in the first quarter of 2016 grew at a mid-teens percentage rate year-on-year and operating cash flow turned positive, it said.
Last week, bigger local rival Anta Sports Products said first-half net profit rose by one-fifth, signaling that China's sportswear sector is on the mend after two years of store closures, streamlining operations and inventory clearance. Anta is best placed among its rivals to recover, analysts say.
International giants are positive on China's sportswear sector. Adidas' revenue from China is expected to grow at a double-digit rate this year, up from high single-digits.
In March, Li Ning said its namesake founder was returning to lead a turnaround drive as the company posted a third consecutive year of losses, squeezed by global brands and cheaper goods from local rivals.