As China's manufacturing industry matures, multinational companies are exploring the potential in higher quality, rather than simply high quantity manufacturing to drive the nation's growth.
Richard Clemmer, chief executive officer of Dutch semiconductor manufacturer NXP Semiconductors, said China continues to be an important country in the world relative to the growth of semiconductor technology and all electronics.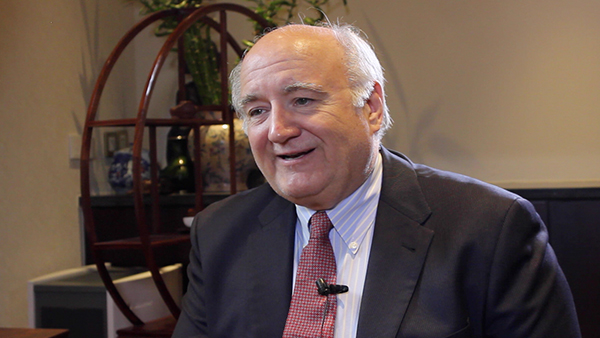 Richard Clemmer, chief executive officer of NXP Semiconductors [Liu Zheng/chinadaily.com.cn]
"When you think about the '2025' strategy or Industry 4.0, and all of the different areas, we've tried to summarize that or simplify that from an NXP viewpoint and we call it 'The Smarter World'," said Clemmer.
According to him, with the "Smarter World" strategy, the focus of the company is on being able to drive secure connections to make life easier, to make the way people do things in their daily lives much easier than it is, but also to make it safe and secure.
Clemmer expressed optimism about China's economy, saying that he "believes the opportunity in China will continue to be very significant and will continue to grow, and the overall economic development in China will continue".
"Obviously we want to continue to be a good corporate citizen in China. We continue to do joint ventures, do technology transactions to be able to strengthen our relationship with all of our Chinese partners, be able to support our customers in China in a more complete fashion," he said.
In China, NXP is one of the largest semiconductor suppliers in the automotive segment.
"We'll be in a real leadership position and be able to bring technology so that we can make a difference in safer driving, whether it's vehicle-to-vehicle communications, whether it's the ability to really move to ADAS or the automated driving capability associated with it," said Clemmer.
In 2013, NXP formed a joint venture with state-owned Datang Telecom Technology Co Ltd to supply automotive ICs to China.
Datang NXP Semiconductors Co Ltd, headquartered in Nantong city, Jiangsu province, focuses on the development and sale of chips for the Chinese hybrid and electric car market, and was set up to be 51 percent owned by Datang and 49 percent owned by NXP.
On May 28 this year, NXP announced an agreement that will facilitate the $1.8 billion sale of its RF Power business to Jianguang Asset Management Co Ltd.
"We continue to have more and more ways that we can partner with different relationships in China to be a much better corporate citizen and continue to improve our position in China, which is so critical to us going forward," said Clemmer.