The first half of 2015 was an turbulent time for the Chinese equity market, as the stock index hit a seven-year-high and then the index took a nose dive, shedding 30 percent in one month.
Despite the roller coaster ride, stock brokerage firms have seen huge growth in their business. According to data from Thomson Reuters, a financial data service provider, 25 underwriters, including foreign brokerage firms whom are covering overseas listings, covered 379 share issues of Chinese companies with proceeds amounting to $84.93 billion, nearly doubled the proceed amount of same period last year, which saw proceedings of $46.36 billion.
Here are the top 10 domestic brokerage firms for the first half of 2015, according to data provided by Thomson Reuters.
No 10 Guotai Junan Securities
Number of issues: 11
Proceeds amount: $1.684 billions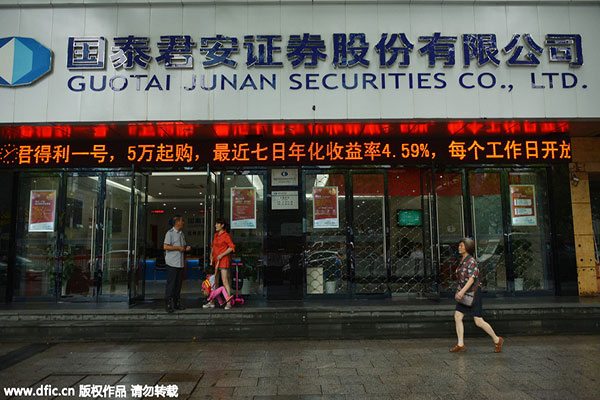 A pedestrian walks past a stock brokerage house of Guotai Junan Securities Co Ltd in Hangzhou city, east China's Zhejiang province, 18 June 2015. [Photo/IC]