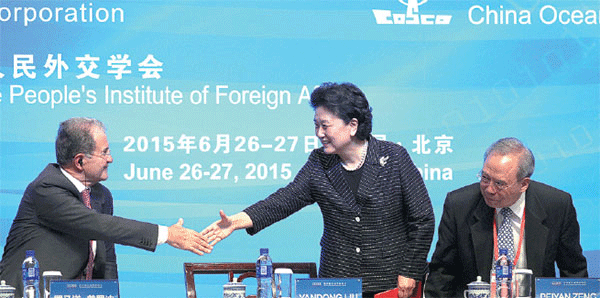 Vice-Premier Liu Yandong (middle), Zeng Peiyan (right), chairman of China Center for International Economic Exchanges, and Romano Prodi, former prime minister of Italy, at the Fourth Global Think Tank Summit, on Friday. [Zhang Wei/China Daily]
The government aims to continue reducing poverty in China and promoting global development to achieve new United Nations development targets starting next year, Vice-Premier Liu Yandong told the opening ceremony of a summit in Beijing on Friday.
"To promote economic recovery and sustainable development is the dual task of all developed and developing countries, and cooperation among countries is the foundation of ensuring the balanced growth of the economy, society and the environment," said Liu at the Fourth Global Think Tank Summit.
Liu said that the global economy is still recovering after the financial crisis of 2008, and she added that it is important to uphold multilateral trade and investment agreements, develop the global market and avoid protectionism.
She said that China will maintain stable, high-quality economic growth, with a target GDP expansion of about 7 percent this year, while also raising living standards and enhancing environmental protection.
"The Chinese government ... believes that the whole world can achieve a consensus on a fairer and inclusive growth pattern," said Liu.
The two-day summit is hosted by the China Center for International Economic Exchanges, a government think tank.
This year's theme is "Global Sustainable Development: A New Path after 2015". This year is the last to achieve the United Nations' Millennium Development Goals, which aim to reduce global poverty to half the level in 1990.
The previous summit in 2013 focused on global economic and political development challenges and new cooperation mechanisms.
Dozens of officials, business executives and leading think tank experts from around the world are attending this year's summit to discuss effective development models amid the weak global recovery and the persistent slowdown of economic growth in China.
CCIEE Chairman Zeng Peiyan said that China is playing a more important role and assuming more responsibility in dealing with global issues, including climate change, economic governance and green development.
"Think tanks in different countries should cooperate to provide feasible suggestions to the government and improve sustainable development in the next 15 years," said Zeng.
Before the opening ceremony, the CCIEE, UN Development Program and Shanghai Institutes for International Studies jointly released a report called Rebalancing Global Economic Governance: Opportunities for China and the G20 beyond 2015.
It analyzed the challenges that global economic governance needs to address and suggested restructuring the governance framework to keep up with global economic power shifts, characterized by emerging economies like China that increasingly play a more pivotal role.
"China's rise has not only improved the wellbeing of domestic citizens, but it has also positively contributed to the global economy through its role in global governance," said the report.
"China could embrace new institutions and enhance coordination among new and existing ones to ensure they complement one another, create synergies and build new solutions to global problems," the report added.