Wang Gang is a gaming fan and also a power-leveling service provider, an individual or a company paid by other gamers to play and level-up their characters to a desired stage, in Northwest China's Shaanxi province.
Wang's work seems easy as he only needs to sit at home and play online games all day, but staring at the screen for long hours and sitting on the chair is not so comfortable, according to him.
He has been doing this job for nearly seven years since he opened an online store to provide power-leveling services in 2008. At first, he even employed several gamers to work with him, but now he does it all by himself.
Although playing games is fun, it could be boring when it becomes a career. In order to make him exercise and walk more outside, his wife bought a pet dog for him.
In the past, helping others to level up the game characters earned Wang only 100 yuan ($16.11) on average, but now he can earn more than 10,000 yuan per month.
With the widespread of Internet and online games, it is estimated that China has 400,000 professional gamers who work full-time to provide power-leveling services.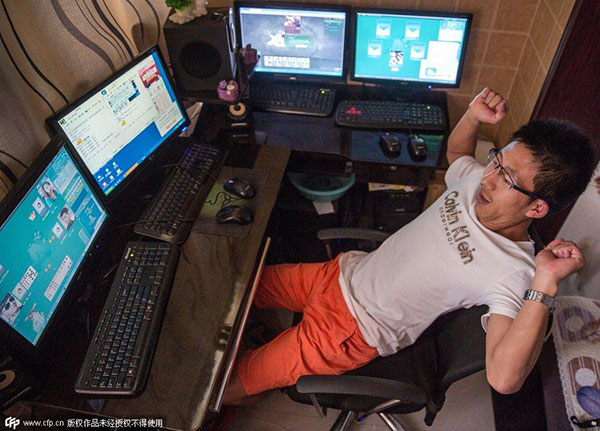 Wang Gang stretches himself after hours of gaming at his home in Xi'an city, capital of Northwest China's Shaanxi province, May 26, 2015. [Photo/CFP]