Of 31 provincial-level governments that have concluded their regional people's congresses, 29 have lowered their GDP growth targets.
The cut reflects mounting downward pressure at local level, said economists, as China's economy shifts to the "new normal" from high speed development.
Provinces with the largest gaps between goals and reality in 2014 slashed this year's targets the most. Shanghai municipality even scrapped its growth target.
China's 2014 economic growth edged down to a 24-year low of 7.4 percent from 7.7 percent in 2013, the first time that it missed the government's annual target in 16 years.
Moody's expects regional and local governments to face increased pressure on financing requirements this year owing to slower revenue growth.
Let's take a look at the nine provinces that have set the highest GDP target in 2015.
Tibet autonomous region
Target GDP growth of 2015: 12 percent
Last year grew at 12 percent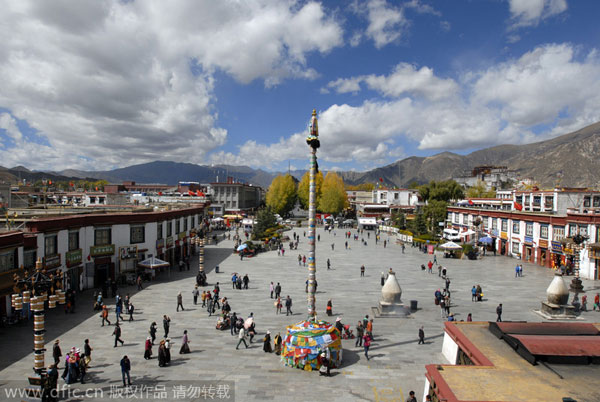 A bird's-eye view of Barkhor Street in Lhasa, Tibet autonomous region, Oct 11, 2014. [Photo/IC]