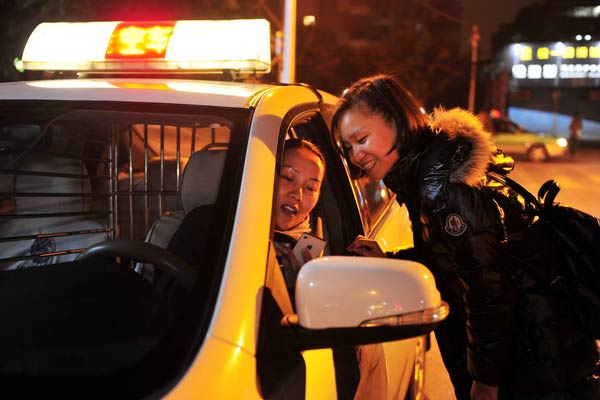 A taxi driver checks her smartphone with a passenger in Fuzhou, East China's Fujian province, Dec 12, 2014. [Photo/CFP]
HANGZHOU - The merger of China's two biggest taxi hailing apps, Didi Dache and Kuaidi Dache, is not a monopoly, according to Kuaidi Dache.
China's anti-monopoly law states that the companies which want to merge should report to the Ministry of Commerce's anti-monopoly bureau if their combined turnover in the last fiscal year exceeded two billion yuan (about $320 million) and at least two of them reported turnover of more than 400 million yuan.
Since the two companies' combined revenue is far lower than the standard, they are not obliged to report to the bureau, Tao Ran, a senior vice-president with Kuaidi Dache, told Xinhua.
Liu Chenglin, a lawyer with Liuhe Law Firm in Zhejiang province, said the law does not prohibit a company from obtaining a dominant market position, but disallows abuse of the position.
The two rivals announced the merger, the largest merger in China's internet history, on Saturday.
The newly formed company, which is yet to announce an official name, has been valued at $6 billion.
Related stories:
Taxi-hailing giants tie knot on Valentine's Day by Song Jingli, chinadaily.com.cn
China's mobile taxi-hailing app operators Didi Dache and Kuaidi Dache, which have been in head-on competition, jointly announced their strategic merger via their Sina Weibo accounts on Saturday, also Valentine's Day, a western holiday celebrated by many Chinese people.
The new company will run on a co-CEO basis and keep the original structure of their respective human resources. Didi and Kuaidi will continue to run their business parallel, retain their brands, and remain independent.
Didi's CEO Lv Chuanwei said the merger will allow the new company to roll out "more perfect" travel service products and speed up market penetration, drawing on the technology and talent advantages of both companies.