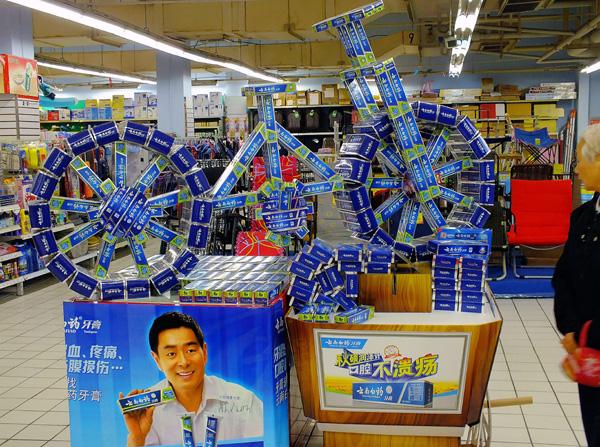 A bike model formed by toothpaste boxes in a supermarket in Yichang, Central China's Hubei province, Oct 13, 2012. [Photo/IC]
Lower-tier cities will be focal point for expansion this year
The fast-moving consumer goods market recorded slower growth last year, although momentum picked up in fourth-tier cities.
The FMCG sector expanded 5.4 percent last year, much lower than the 7.4 percent rate in 2013, according to a report by consultancy Kantar Worldpanel. The deceleration signals that the FMCG market has entered a new phase characterized by growth rates of 5 to 6 percent, said the report.
Fourth-tier cities were the only places where the growth rate accelerated - from 8.2 percent in 2013 to 8.8 percent in 2014.
Kantar said that lower-tier cities will be the key driver for growth this year. For example, out of 24 new Wal-Mart stores opened last year, 16 were located in such cities.
Retailers such as hypermarkets, supermarkets, mini-markets and convenience stores accounted for 42 percent of FMCG sales in urban areas last year, with about 96 percent of the population using these channels.
E-commerce continued to grow rapidly, expanding 34 percent last year and adding pressure on brick-and-mortar retailers.
Many retailers face a transformative era due to a "tremendous slowdown" in consumer demand, a sharp rise in operating costs and direct challenges from e-commerce, said Jason Yu, general manager of Kantar Worldpanel China.
International retailers lost further market share in China last year, sliding from a combined 20 percent in 2013 to 19 percent in 2014. Wal-Mart's share fell from 6.9 percent to 6.6 percent and that of Carrefour slid from 5 percent to 4.7 percent.
Local retailers are able to adapt to the changing market and continue to win market share, said Yu.
Yu said retailers must expand their partnerships through mergers and acquisitions to avoid further deterioration in their performances. For example, Yonghui Superstores Co Ltd could leverage its international resources in marketing and product sourcing, as well as financial resources, through a partnership with Dairy Farm International Holdings Ltd. Such collaborations will allow local retailers to build their merchandise expertise, scale and advantage in product sourcing.