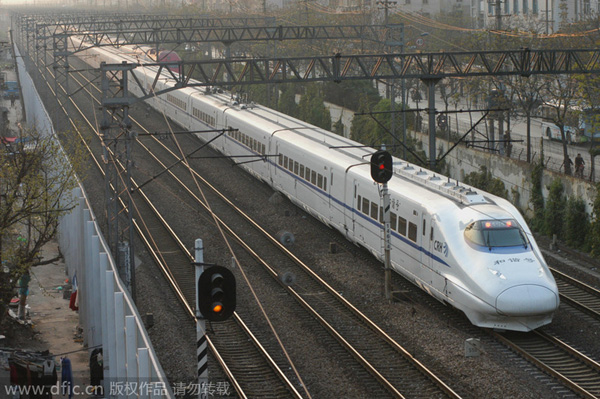 A CRH (China Railway High-speed) train runs on the rail in Shanghai, April 8, 2009. [Photo/IC]
BEIJING - China saw a surge in export of railway equipment as industry leaders actively explore overseas markets, official data showed Wednesday.
China exported 26.77 billion yuan ($4.36 billion) worth of railway equipment last year, surging 22.6 percent year on year, according to data from the General Administration of Customs (GAC).
In December alone, the export value came in at 2.81 billion yuan, a surge of 42.3 percent from the same period a year earlier.
GAC spokesman Zhang Guangzhi attributed the rapid growth to China's manufacturing competitiveness in the sector as well as domestic firms' efforts to tap the global market.
So far, China has exported its railway technology to more than 30 countries and regions, including ASEAN countries, Argentina, Australia and the United states.
The overseas march was mainly led by state-owned firms, with their exports accounting for around 70 percent of the total value, according to the GAC data.
Although a latecomer to the field, Chinese railway equipment companies have thrived due to cost advantage and shorter delivery time.
According to German transportation consultant firm, SCI Verkehr, China North Railway and China South Railway, two industry leaders, currently hold the lion's share of the world's HSR market, with their sales revenue equal to the other five top companies combined.
Related stories: China turns to rail , nuclear to energize exports, by Zhao Yinan, China Daily
China will lift sluggish exports by promoting rail, nuclear power and surplus products in overseas markets after trade growth fell short of its target last year.
The exploration of overseas markets for railways, nuclear power and other sectors involving the use of large-scale equipment will be upgraded through joint-ventures and public-private partnerships, top members of the State Council decided on Wednesday. Premier Li Keqiang presided over the executive meeting.
Industrial resources in those sectors should be integrated, according to a statement released after the meeting. The decision was in line with the ongoing merger of the country's top two train makers, hinting that a similar overhaul in related industries could be possible.