Pedestrians walk past a branch of ICBC (Industrial and Commercial Bank of China) in Chongqing municipality, Dec 14, 2013. [Photo/IC]
The Industrial and Commercial Bank of China Ltd sold yuan-denominated bonds in South Korea on Tuesday, the first such issue by a Chinese company and a move that experts said would pave the way for a diversified offshore renminbi bond market in that country.
ICBC (Asia), the Hong Kong arm of China's largest bank by assets, issued two-year bonds worth 180 million yuan ($29 million) at a coupon rate of 3.7 percent.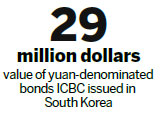 The ICBC Seoul Branch will be responsible for bond clearing, and KDB Daewoo Securities underwrote the issue.
An official with the South Korean finance ministry said the issue is a significant step. Seoul is considering inducements for foreign enterprises to sell yuan-denominated bonds in the country and these issues will keep rising over time, the official said.
Yuan-denominated corporate bonds started trading on the Korea Stock Exchange at the end of September.
Seoul-based Woori Bank Co Ltd sold 200 million yuan of two-year renminbi bonds in South Korea on Sept 10, the first such issue by a domestic company there.
Chen Fengying, a senior economist with the Institute of World Economic Studies at the China Institutes of Contemporary International Relations, said that ICBC's offering shows that the issuer base for yuan-denominated bonds in South Korea has expanded from domestic institutions to Chinese institutions.
Considering that the yuan is basically stable and increasingly internationalized and that returns on yuan-denominated bonds are relatively high, South Korea would like to see more such issues.
It will consolidate the foundation for the offshore renminbi market in South Korea, strengthen bilateral financial cooperation and push for a free-trade zone for the two countries, Chen said.
In recent years, many financial centers such as London, Frankfurt and Singapore have vied to become offshore renminbi centers. The use of the yuan as a settlement, transaction and even reserve currency has been surging.
By adding South Korea as an offshore renminbi bond market in Asia, China will significantly promote the internationalization of its currency, Chen said.
South Korea's yuan-denominated deposits increased by $380 million in September to $20.4 billion, according to the nation's central bank, accounting for 32 percent of all foreign-currency deposits in that month.
In July, President Xi Jinping and his South Korean counterpart Park Geun-hye agreed during a summit in Seoul to launch direct trading between the currencies of the two countries.
Under the Renminbi Qualified Foreign Institutional Investor program, China granted 80 billion yuan of quotas to South Korean financial institutions, allowing them to make direct investments in the Chinese domestic financial markets with yuan funds earned from the won-yuan direct trading market.