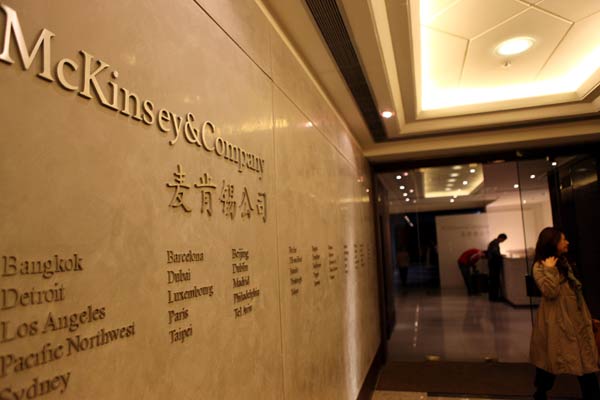 The Beijing office of US-based global consulting giant McKinsey & Co, which was founded in 1926. The company entered China in 1993. CHINA DAILY
Employment generation should be 'main driver of growth' for China
Though Gordon Orr has been a rapier-sharp critic of the government policies in China, it has not gotten in the way of his being honored as an important guest at key functions. He is rather comfortable with wearing two hats at the same time.
Though some of Orr's comfort comes from the aura that McKinsey & Co, his employer and one of the world's largest management consulting firms, provides, it is his sharp and keen intellect that makes him different from the rest of his peers.
Orr, the director and chairman of McKinsey Asia, is well-known for his incisive and objective views on the Internet, or more widely as "China's No 1 foreign brain", a title given him by Global Entrepreneur magazine.
That title seems well-deserved, considering that Orr has over two decades of service in China and has watched the economic transformation of the nation from the time McKinsey set up its first office in Shanghai in 1993.
Orr writes articles and commentaries twice a week in his official blog, Gordon's View, on extensive topics ranging from e-commerce to air pollution. He has also been a panelist at several top-level forums such as the Summer Davos. In early September, Orr was given the "Magnolia Gold Award", the highest honor for foreigners from the Shanghai government.
Orr had much of his fire intact when he told China Daily in a recent interview that the China (Shanghai) Pilot Free Trade Zone still has some way to go before it can attract big-ticket investments. "In the early days of the announcement of the free trade zone, lots of companies got very excited, but probably inappropriately excited," he said.
Though the Shanghai FTZ is often showcased as an example of the government's determination for reform, Orr says that the China of 2014 is different from the China of 1994.
It has an economy that is 10 or 15 times larger than what it was in 1994. So the real impact of any zone-type initiative as a proportion of the entire economy would be rather small, he said.
"There was lots of learning, lots of exploring and a lot of options created in the FTZ over the last year. But there has been no big investment yet," he said. Orr says that though there are several reasons for this, it is the lack of clarity and purpose that has been the bugbear. "Experiments in financial reform need to be carried out gradually and smoothly, which also means slowly," he said.
"But I am equally optimistic about the FTZ," Orr said, adding that the Shanghai FTZ is heading in the right direction, especially with steps like faster registration of businesses and easier handling of money.