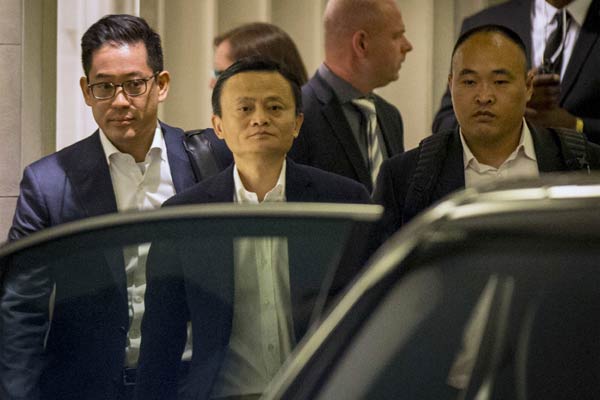 Jack Ma, founder and executive chairman of Alibaba Group Holding Ltd, leaves following the company's roadshow in New York on Monday. Hundreds of hedge funds, mutual funds and other institutional investors lined up on Monday to hear Alibaba Group's management pitch the company's shares, as the Chinese e-commerce giant kicked off a two-week IPO marketing blitz. BRENDAN MCDERMID/REUTERS
E-commerce firm fields questions from hundreds of institutions ahead of record offering
E-commerce giant Alibaba Group Holding Ltd began a 10-day global roadshow on Monday for what is expected to be a record initial public offering on the New York Stock Exchange, but some of those who were among an overflow crowd of institutional investors said they did not get all the answers they had hoped for.
About 800 investors came to the Waldorf Astoria to hear founder and Executive Chairman Jack Ma. Other meetings are planned in the United States, Europe and Asia before the IPO, which is reportedly scheduled for Sept 18. The American depositary shares will trade under the symbol BABA.
"There is no doubt that Alibaba's IPO on the New York Stock Exchange will help to amplify its brand recognition on a global scale," said Mark Otto, a partner at J Streicher and Co.
Analysts have said that Alibaba could raise up to $21.1 billion. It is the world's largest online and mobile commerce company with 279 million active shoppers and about 80 percent of online retail sales in China. Gross merchandise volume reached $296 billion in the 12 months ended June 30.
But the company has experienced controversy, in particular over governance and the influence of Ma and senior managers. Its corporate structure, known as a variable interest entity, led to the stock exchange in Hong Kong rejecting the IPO. It also led to a warning from a US Congressional commission, which said that shareholders face "major risks" from investing in companies using a VIE.
"This is a major step for Alibaba because it forces the world financial community to evaluate the company and its business model," said Frank Lavin, a former US undersecretary of commerce for international trade and founder of Export Now, which helps companies sell online in China.
Alibaba updated its US Securities and Exchange Commission filing on Sept 5, with shares expected to be priced at $60 to $66. That would be higher than those of Yahoo Inc, which owns some 22 percent of Alibaba. At this range, Alibaba is valued at $160 billion.
Alibaba has six marketplaces including Taobao.com and Tmall.com. The company has spent $4.6 billion on acquisitions this year.
Several investors who spoke with Reuters before and after the New York event said they had questions about Alibaba's corporate governance and transparency and its plans for US growth and acquisitions. They said they did not learn anything new but felt that the event was well-choreographed.
Akram Yosri, a managing partner at 3iCapital Group, said he wanted to know more about how the company planned to grow globally, especially how it plans to compete with Amazon.com Inc and eBay Inc in the US. "Did I learn anything? Absolutely not," he said.
But Yosri and others said Ma was impressive and "charismatic". Ma, a former English teacher, has a net worth of $21.9 billion and is China's richest man, according to Bloomberg data.
Avery Booker, a partner with China Luxury Advisors, a global boutique consulting firm that helps brands attract Chinese shoppers, said the IPO will take Alibaba beyond being a "regional" power.
"The company will likely move forward with even more acquisitions of Western tech companies and develop an even bigger footprint in new markets like the US, where it has spent significant time in recent years laying the groundwork for consumer-facing products and new e-commerce sites like 11 Main," said Booker.
While many expect the company's IPO will create competition with Amazon and eBay, it also could provide opportunities for partnerships, said Booker.
Reuters and Bloomberg contributed to this story.