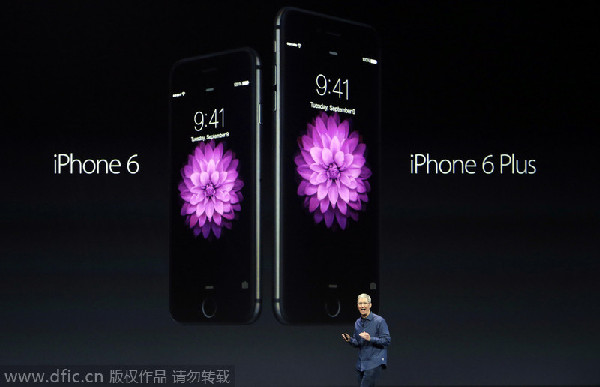 Apple CEO Tim Cook speaks during an Apple event announcing the iPhone 6 and the Apple Watch at the Flint Center in Cupertino, California, September 9, 2014. [Photo/Agencies]
Chinese largest carriers China Mobile Communications Corporation, China Unicom and
China Telecom
all have removed the web pages for iPhone 6 and iPhone 6 Plus pre-order service, which was launched earlier this month.
Both China Unicom and China Mobile offered some information on Apple Inc's iPhone 6 and iPhone 6 Plus on their pre-order web pages, including the price and two different display sizes before the launch of the phones.
China Mobile received 30,000 orders in just two hours after unveiling the pre-order pages, China Economic Net reported Tuesday.
An insider at China's online shopping mall JD.com Inc told cnr.cn on Tuesday that the company would explore new promotion methods through the cooperation with finance industry or other business sectors.
Song Yang, vice-president of Paipai.com, an e-commerce platform owned by JD.com, also said on Tuesday that they had already prepared a specific section for iPhone 6 and iPhone 6 Plus sales on its website. The sales webpage has been launched Wednesday.
Analyst Wang Jun from Analysys International said that for high-end cell phones, there is not much difference between iOS and Android operation systems when it comes to specifications, operation, market share and application.