URUMQI - The fourth China-Eurasia Expo (CEE), a six-day international fair, opened in the northwestern Chinese city of Urumqi, capital of Xinjiang Uygur autonomous region on Monday.
Chinese Vice Premier Wang Yang attended the opening ceremony along with Kazakh Prime Minister Karim Masimov, Kyrgyz Prime Minister Zhoomart Otorbayev and Georgian Deputy Chairman of the Parliament Zviad Dzidziguri.
This year's expo theme "Opening up and Cooperation for Building Silk Road Economic Belt" aims at drawing regional economies together to discuss development strategies.
In his keynote speech, Wang lauded the economic belt, which involves over 40 Asian and European countries and regions with a combined population of 3 billion, telling participants at the expo that it will bring great opportunities for countries and regions along the route.
The Silk Road economic belt eyes the cultural revival of the Silk Road, which historically links China with Central Asia and Europe, as a way of developing political and economic ties.
Stressing the core values needed in reviving the Silk Road, Wang asked countries along the route to be inclusive and open-minded so as to reach a win-win situation. He urged streamlining trade procedures, improving industrial levels and building an efficient transportation network in a step toward a vigorous economic belt.
Five areas should be prioritized in the hugely ambitious plan, including stepping up policy communication, improving road connectivity, promoting unimpeded trade, enhancing monetary circulation as well as increasing understanding among people, according to Wang.
The Silk Road economic belt has injected vitality into regional cooperation in Eurasia. The expo will help drive such cooperation further and contribute to common development, Li Jinzao, China's Vice Minister of Commerce, said during the opening ceremony.
The annual event attracted roughly 25,000 participants from China, 60 foreign countries and four international organizations. It will run from Sept 1 to 6.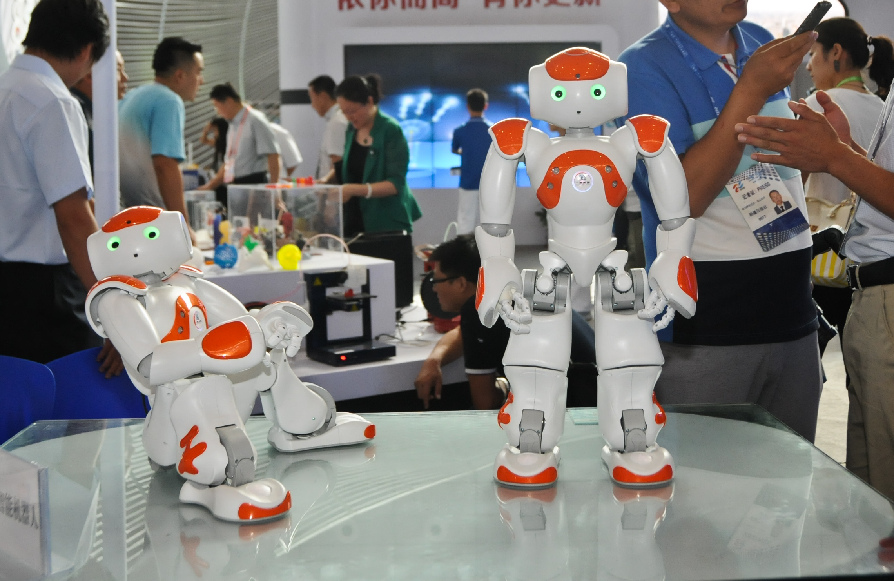 Photo taken on Sept 3 shows the robots at China-Eurasia Expo. The fourth China-Eurasia Expo, opened on Sept 1, 2014 in Urumqi attracted roughly 25,000 participants from China, 60 foreign countries and four international organizations. [Photo/Xinhua]