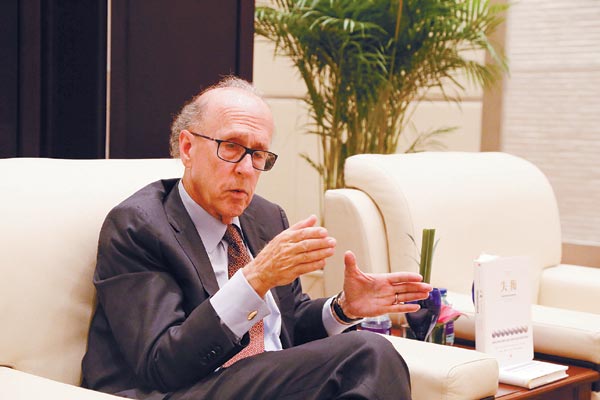 Stephen Roach, former chairman of Morgan Stanley Asia, says nobody in the Barack Obama administration fully understands China. [Photo/China Daily]
Stephen Roach says one of the problems with Sino-US relations is that nobody in the Barack Obama administration fully understands China.
The former chairman of Morgan Stanley Asia believes this makes the issues that arise between the world's two largest economies difficult to resolve.
"What concerns me is there is no real expert on China, its system, its economy and its people at high levels of the executive branch of the Obama administration," he says.
"Earlier administrations had Henry Kissinger and, although I am no fan of his, Hank Paulson (former US treasury secretary) also knew China very well."
Roach, 68, who is now senior fellow at the Yale Jackson Institute for Global Affairs at Yale University, was speaking in the Ritz-Carlton in Beijing after the launch of the Chinese edition of his latest book, Unbalanced: The Co-dependency of America and China, in which he puts Sino-US relations on the psychiatrist's couch.
"Well, I don't know. Maybe I am the first one to set himself up as a psychoanalyst of economies," he jokes.
He likens the relationship, however, to that of a bad marriage, where the two partners lose their individual identity and are subsumed within an often failing joint enterprise. "Co-dependency is a term that comes from the study of human psychology where two individuals in a relationship become overly dependent on each other to provide them with a sense of who they are. These relationships are not sustainable. They create problems between those involved and in many cases lead to a breakup."
Few are as well-qualified to make such judgments as Roach, who has high-level connections in both Beijing and Washington and has seen the relationship firsthand in a 30-year career with one of America's leading investment banks.
He is close to former US secretary of state Hillary Clinton and financially backed her campaign to become the Democratic Party's presidential nominee in 2008. He believes if she were to run again and become president, it could be good for Sino-US relations.
"She is a smart woman. She has certainly thought a lot about China. It is presumptuous to say that Hillary Clinton is going to be president next time. Who knows what is going to happen between now and then? I think she would certainly be better at drawing together a team of inside experts to grapple with China."
Roach, who was brought up in Beverly Hills, California, which has given him a lifelong passion for movies, got to know China well himself in the aftermath of the Asian financial crisis in 1997, when there were concerns its economy might be the next domino to fall.
"I was head of Morgan Stanley's highly ranked global economic team. And I must tell you that despite our No 1 ranking, we had one of the worst forecasting records (in relation to the crisis). It was personally humiliating for me."
He challenged himself to visit China twice a month in the second half of 1997.
"It became clear to me that not only was China not going to succumb to the crisis but also that it would emerge as the new economic leader of Asia and play an important role in driving the global economy for years to come."
It was also then that he began analyzing the Sino-US economic relationship and its co-dependency, which he argues in the book dates back to 1978.