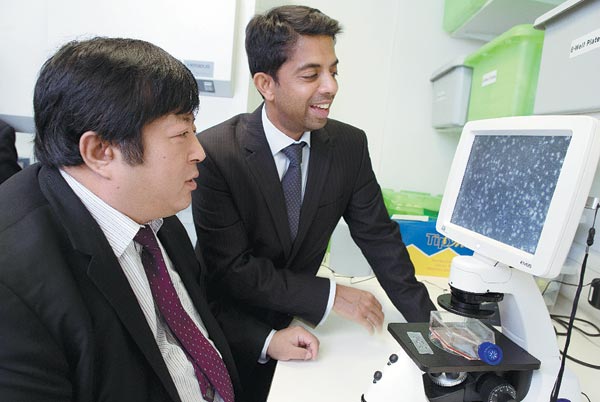 Zhang Qingliang, chairman of Union Shengxin Pump Industry of China (left), and Cell Therapy Ltd Executive Director Ajan Reginald conduct a laboratory test. [Photo/China Daily]
Chinese-British joint venture claims big breakthrough in customized treatments
Miniaturization is changing the face of medicine, and a device used to make cellular medicine that has until now needed the space of a small room will soon be sitting on hospital desktops.
Helping to drive the breakthrough is a partnership between two companies, one Chinese and the other British, to produce a bioreactor that makes the medicine.
Cellular medicine can be used to treat diseases or ailments such as spinal injuries where cells need to be grown to replace old ones.
The bioreactor acts as an incubator to grow cells, which then need to undergo a complicated process to become cellular medicine, given to the patient in a liquid form.
With China's cost advantage, it is hoped the new joint venture will reduce the cost of making bioreactors.
The joint venture is called Bioreactor Corp, and Union Shengxin Pump Industry of China and Cell Therapy Ltd of Britain each has an equal stake. Its headquarters is in the United Kingdom, and it employs seven people, but the company says it will eventually create a total of about 200 jobs in both Wales and China.
Most of the jobs in China will be in manufacturing, because Bioreactor plans to build a factory to produce the medicine in Hebei province. Some components for the bioreactor will be made in Britain.
"As a traditional manufacturing company it is a big achievement for us to move into a niche manufacturing industry through this joint venture," says Zhang Qingliang, chairman of Union Shengxin.
"It is a good way for us to gain great technology and know-how, which will help us improve our manufacturing capability."
Union Shengxin was founded in Shijiazhuang in 2007. Its key products are slurry pump and related equipment, and it produces 100,000 units a year in three factories, in Shijiazhuang, Hengshui, Hebei province, and Guilin, Guangxi Zhuang autonomous region.
In recent years, its products have been sold overseas, including in Australia, India, Madagascar, Russia, South Korea, the US and Vietnam.
Union Shengxin's expertise in pump manufacturing greatly contributed to the joint venture with Cell Therapy being formed, because each bioreactor has two small pumps as key components, Zhang says.
Union Shengxin has invested 5 million pounds ($8.6 million) in Bioreactor Corp; Cell Therapy's contribution is 6.5 million pounds.
"Initially, when we entered talks with Cell Therapy, they wanted us to just make the pumps, but we wanted to contribute more to the joint venture, so we said we would manufacture the whole bioreactor," Zhang says.
Zhang says his company has decided that the bioreactors should use disposable pumps, ensuring the pumps used for making each batch of medicine are completely clean.
"We want to produce a bioreactor that patients can trust, with the comfort of mind that it is clean and safe."
Making the pump element of the bioreactor accounts for about 20 percent of the total manufacturing cost, he says.
The executive director of Cell Therapy, Ajan Reginald, says Bioreactor Corp's work could bring great changes to the cellular medicine industry as low-cost manufacturing in China means patients and research bodies can have access to this technology much cheaper.