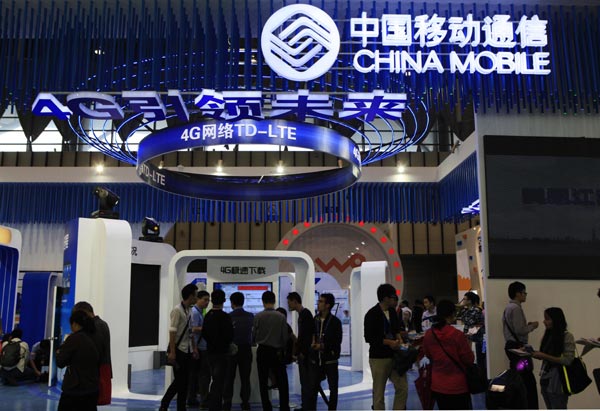 A China Mobile Ltd stand at an international software and information service expo in Nanjing, Jiangsu province. [Photo/China Daily]
China Mobile Ltd has held talks about purchasing a minority stake in Axiata Group Bhd, Malaysia's largest wireless carrier by market value, sources with knowledge of the matter said.
The Beijing-based company asked to buy about 20 percent of Axiata, a stake that would be valued at more than $3.7 billion based on Tuesday's closing price, said one of the sources, asking not to be named as the information is private.
No agreement was reached, as Axiata and its largest shareholder, Khazanah Nasional Bhd, the Malaysian government's investment holding arm, are unwilling to sell that much stock, and they consider the offer too low, sources said.
China Mobile, the world's biggest phone company by number of users, has been seeking overseas acquisitions after its cash rose to $69 billion by the end of March, according to data compiled by Bloomberg. It agreed in June to buy 18 percent of True Corp, Thailand's third-largest phone company, for $881 million.
A $3.7 billion investment in Axiata would mark China Mobile's biggest overseas acquisition and the biggest telecom deal in Southeast Asia since 2007.
"China Mobile might need to pay a decent premium, as Axiata does not urgently need a strategic investor," Steven Liu, a Hong Kong-based analyst at Standard Chartered Plc, wrote in a research note on Wednesday. "We do not expect China Mobile to contribute much to Axiata's operations in the medium term, though some cooperation is likely in procurement."
Axiata's value has more than doubled in the past five years to 8.1 times the latest year's earnings before interest, taxes, depreciation and amortization, from 3.6 times in 2009, data compiled by Bloomberg show. China Mobile trades at 5.6 times on that basis, according to the data.
It was not immediately clear exactly how much per share China Mobile was willing to pay for Axiata. Khazanah owns 38.8 percent of Axiata.
Axiata shares have advanced 0.7 percent this year, giving it a market value of 59.6 billion ringgit ($18.6 billion). Shares were down 0.3 percent at Wednesday's close in Kuala Lumpur. China Mobile shares slipped 1.3 percent in Hong Kong trading on Wednesday, trimming gains this year to 5.3 percent.