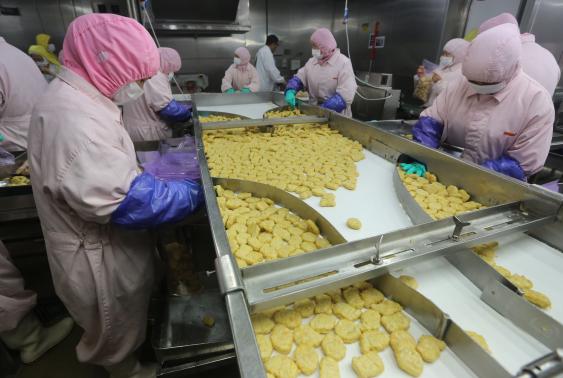 Employees work at a production line prior to a seizure conducted by officers from the Shanghai Food and Drug Administration, at the Husi Food factory in Shanghai, July 20, 2014. [Photo/Agencies]
US fast food chains McDonald's Corp and KFC-parent Yum Brands Inc apologised to Chinese consumers on Monday and said they will stop using a Shanghai meat supplier after Chinese regulators shut the firm down over food safety concerns.
A watchdog closed a Chinese branch of privately held US-based food supplier OSI Group LLC and seized meat products suspected of being beyond their expiration date, according to a statement on Monday from the Shanghai Municipal Food and Drug Administration. OSI products were sold to clients including Yum's KFC and Pizza Hut chains and McDonald's.
An official at Aurora, Illinois-based OSI in China said the firm was working with local government to investigate the matter, but declined to comment further. OSI, which has over 50 manufacturing facilities worldwide and had revenue of over $5 billion in 2012, has been supplying McDonald's in China since 1992 and Yum since 2008, according to its website.
The incident is a headache for Yum and McDonald's since the pair were hit by a food safety scandal in China in 2012. Yum suffered a sharp dive in profits early in 2013 after the safety concerns, and has only recently starting to bounce back in China.
"I think this is going to be really challenging for both these firms, and especially for Yum," said Benjamin Cavender, Shanghai-based principal at China Market Research Group.
"Yum had just started rebuilding credibility and had some decent sales news which just came out for the second quarter. I think this is going to really set them back," he added.
McDonald's and Yum are the two leading fast food chains in China by sales, according to data from research firm Euromonitor, but are facing a rising challenge as local firms try to tempt cost-conscious diners with healthy, homegrown fare.
Yum and McDonald's both said they have stopped using meat products purchased from Shanghai Husi Food Co Ltd, a local unit of OSI, and were investigating the matter, according to statements posted on their official Weibo microblog sites on Monday.
Local Chinese television broadcast a programme on Sunday saying an undercover reporter had seen the use of expired meat and poor hygiene practices in a local factory, local media said.
"Food safety is the most important thing for McDonald's, and we always strictly abide by national laws and regulations and related standards to ensure consumers can enjoy our products at ease," McDonald's said in the Weibo statement.
Yum said it did not tolerate any behaviour from suppliers that breaks rules and had already started an investigation into OSI's Shanghai unit. It added it will actively cooperate with the work of relevant Chinese government departments.