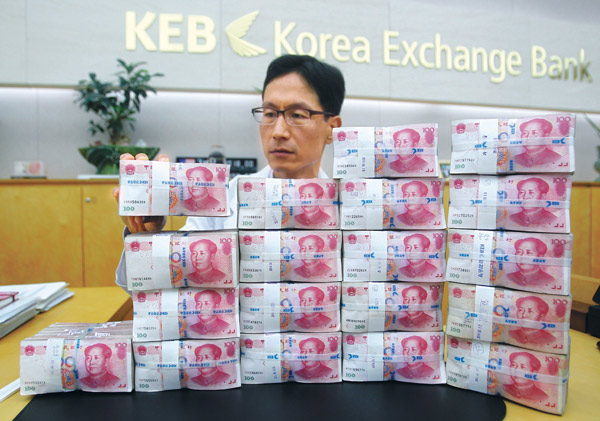 A staff member of the Korea Exchange Bank shows yuan banknotes to reporters during a work process briefing last week. With the rapidly increasing trade exchange between the two countries, China and South Korea plan to directly trade their currencies. [Photo/Xinhua]
China and South Korea plan to directly trade their currencies, marking a step forward in the renminbi's internationalization.
The announcement came in a joint statement from the Chinese and South Korean governments during President Xi Jinping's visit to South Korea on Thursday.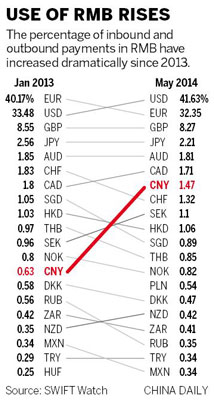 An RMB clearing facility is expected to be set up in Seoul to further boost yuan trading in the country, where deposits of the Chinese currency have surged this year.
The statement didn't specify when the two plans will be implemented.
An agreement will mark the success of months of negotiations between the two countries to provide a marketplace where the yuan and the South Korean won can be transacted directly without relying on the US dollar.
According to the statement, South Korea will also be given an 80 billion yuan ($12.9 billion) quota under China's Qualified Foreign Institutional Investor system, which allows foreign fund managers to invest in Chinese financial markets using the yuan.
As of May, South Korea had $11.3 billion worth of yuan deposits, up by 70 percent from the start of the year, making the yuan the second-largest foreign currency deposit in the country after the US dollar.
Direct yuan-to-won trading will mitigate exchange-rate risks and help bilateral trade grow in a more stable and predictable way, said Tu Xinquan, a professor at the University of International Business and Economics in Beijing.
China has been South Korea's biggest trading partner since 2004, with about 25 percent of South Korea's exports in the past six months going to China.
China and South Korea already have a currency swap line in place. The Chinese central bank activated the line for the first time on May 30, when it took 400 million won ($396,000) from its South Korean counterpart and lent to a Chinese lender. The lender then used the fund to finance imports of South Korean goods.
Analysts said the action underscores the two sides'strengthening financial relationship and the huge demand for direct currency trading.
To reduce its reliance on the US dollar and promote the yuan's globalization, China has started direct trading between the yuan and a slew of currencies in recent years, including the British pound, Japanese yen, Russian rouble and New Zealand dollar.
Since 2009, the Chinese central bank has also established currency swap lines with 23 foreign central banks, with a total amount of up to 2.5 trillion yuan, and has set up yuan clearing facilities in other countries, including Britain and Germany.