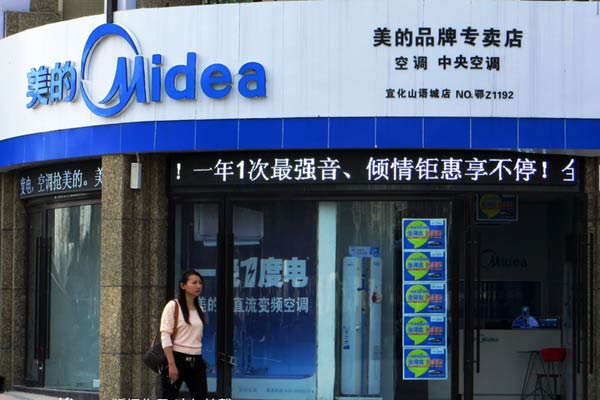 A Midea store in Yichang, Central China's Hubei province, Oct 9, 2013. [Photo/IC]
Chinese home appliance retailer Midea Group's plan to acquire a 20 percent stake of Wuxi Little Swan Co Ltd, one of the top washing machine manufacturers in China, has been approved by the China Securities Regulatory Commission, Midea Group said in a statement on Sunday night.
Midea Group plans to buy Little Swan's A share at 10.45 yuan ($1.68) per share, and B share at $HK10.05 ($1.30) per share. Both companies agreed to the price and will soon commence with the acquisition plan.
As China evolves to a consumer-driven economy, the domestic home appliances market is expected to reach 738.1 billion yuan ($118.4 billion) by 2016 in terms of retail value, up from an estimated 603.5 billion yuan this year and 547.5 billion yuan in 2013, according to data from consumer research firm Euromonitor.
Midea Group said its net profit for the first quarter soared 148.5 percent to 2.54 billion yuan ($408 million). Analysts expected a rise of 77.5 percent on its full-year earnings, the fastest pace since the group listed in 2013.