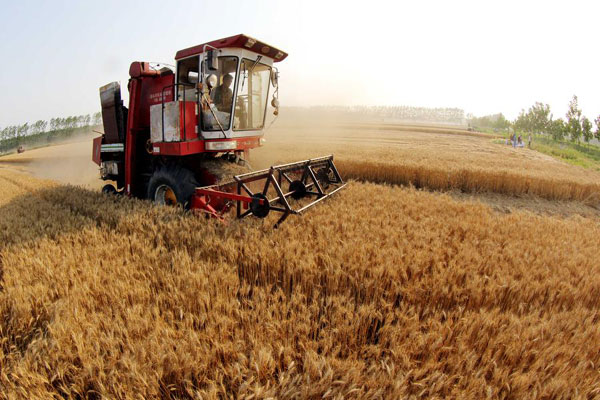 A farmer drives a cropper to collect wheat on June 18, in Wangzhai county, Bozhou city, Anhui province. [Photo/Xinhua]
Higher winter wheat output allays concerns over food security this year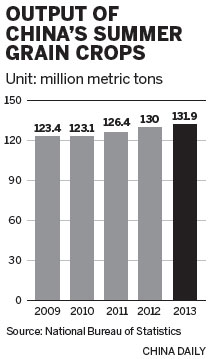 Higher output of winter wheat and early-season rice will bolster China's grain output self-sufficency and allay worries over food security this year, the Ministry of Agriculture said.
China harvested more than 20 million hectares of winter wheat crop this week, accounting for about 90 percent of the total winter wheat crop.
Farm mechanization rates improved with 19,900 combine harvesters being used to harvest the wheat spread over an area of 18.87 million hectares, according to data provided by the farm mechanization department under the Ministry of Agriculture.
Officials from the agricultural departments of the major wheat-growing regions like Shandong and Henan also expressed confidence that winter wheat output this year would be higher than that of last year. The two provinces have so far harvested 3.74 million and 5.47 million ha of winter wheat.
Hubei, another prime winter wheat-growing province, has purchased 1.3 million metric tons of wheat from local farmers, up 53 percent from a year earlier. The purchases were managed by China Grain Reserves Corp's Hubei branch and the local government.
According to the Ministry of Agriculture, all the 11 major grain-growing provinces in China have all reported higher yields this month.
Winter wheat in China is usually planted between September and November, and harvested in the summer or early autumn of the following year. The winter wheat crop accounts for more than 90 percent of China's total wheat output.
Hebei, Shandong, Jiangsu, Anhui and Henan collectively account for 70 percent of the total winter wheat production in China. Other major centers include Hubei, Shaanxi and Sichuan provinces.
Wang Zhimin, a professor who specializes in wheat growing technology at the Beijing-based China Agricultural University, said the higher grain output comes despite inadequate snowfall and rain in the crop-growing regions.
"Better supplementary irrigation facilities and adequate temperature during the winter have ensured the smooth growth of wheat during the past five months," said Wang.