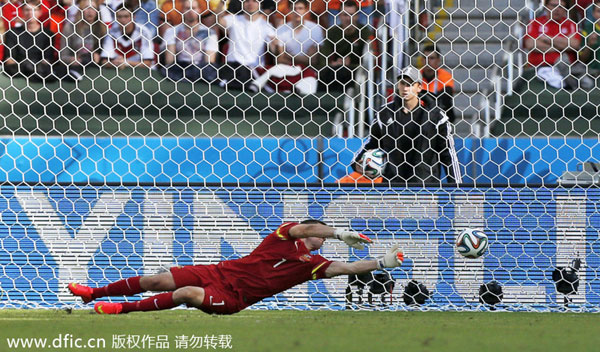 Australia's goalkeeper Mat Ryan fails to stop a shot by Netherlands' Robin van Persie to score his side's second goal during the group B World Cup soccer match between Australia and the Netherlands at the Estadio Beira-Rio in Porto Alegre, Brazil, Wednesday, June 18, 2014. The logo of Yingli is seen behind the goalkeeper. [Photo/IC]
Financial outlook brightens for solar power firm after 11 quarters of losses
Investors tied to solar power may expect big gains in the stock of Yingli Green Energy, as the world's largest solar-panel maker and supplier said it expected a profit for the current quarter after an industry shakeout and cost reductions.
Solar companies have stumbled for the past few years amid overcapacity and high punitive duties from the United States and Europe. Yingli hasn't generated a profit for the past 11 quarters.
But as the global solar panel industry revives and demand from emerging solar markets in South America and Asia has taken up the slack, the New York-listed solar giant registered a better performance from January through March.
Overall gross margins improved to 15.7 percent for the first quarter from 4.1 percent a year earlier. The company expects second-quarter margins of 14 to 16 percent, according to the company's filing.
"I have confidence in our ability to drive additional improvement moving forward, witnessing a strong demand from Japan and other emerging markets," said Miao Liansheng, chairman and founder of the company, also known as Yingli Solar, in a statement.
Miao, also the chief executive officer of the Baoding-based company in Beijing's neighboring Hebei province, said that a profit can be expected for the second quarter, hoping the World Cup marketing campaign will become a driving force of its business growth with penetration into the South American market.
With all eyes on the Brazilian World Cup with the big logo of Yingli Solar glittering around the fields, its shares also saw a shining surge on Tuesday.
Yingli Solar rose 12 percent to close at $3.95 on the New York Stock Exchange due to a "slight increase in the average selling price of photovoltaic modules and our ongoing efforts on cost reduction," according to the company's first-quarter filing.