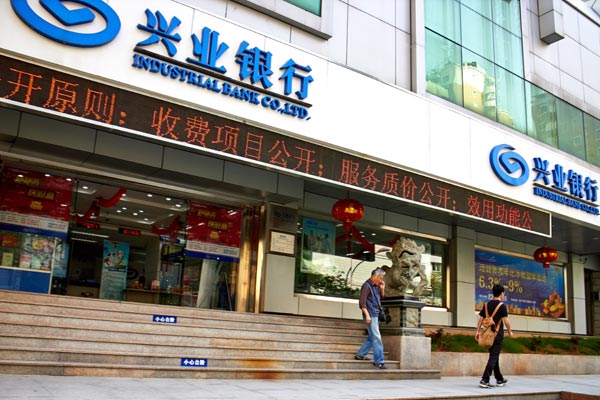 An Industrial Bank Co Ltd branch in Xiamen, Fujian province. The central bank has permitted the lender to reduce the reserve requirement ratio by 50 basis points as part of the efforts to shore up the slowing economy. [Photo/China Daily]
Economists say more policy tweaks necessary for achieving growth target
China Merchants Bank Co and Industrial Bank Co Ltd announced on Monday in separate statements to the Shanghai Stock Exchange that they had received approval from the central bank for a 50 basis point reduction in their required reserve ratios.
China Minsheng Banking Corp Ltd also confirmed by phone to China Daily that the People's Bank of China had allowed it to lower reserve requirements.
Economists said the announcements were a signal that under increasing pressure from an economic slowdown, the government will rely more heavily on monetary policy to boost growth.
Also on Monday, previously announced cuts for other banks became effective. On June 9, the PBOC cut the reserve requirement ratio by 50 bps for commercial banks that have extended a certain portion of their loans to the farming sector or small businesses, according to an online statement.
The June 9 reduction applied to two-thirds of city commercial banks, 80 percent of non-county level rural commercial banks and 90 percent of non-county level cooperative banks, said the PBOC in the statement.
But in a note published on Sina Corp's weibo on Monday, the central bank said the three banks' announcements didn't signal that it had widened the scale of reserve requirement ratio cuts.
It said those cuts apply to qualified commercial banks, including State-owned commercial banks, joint-equity banks, city commercial banks and rural commercial banks.
"It's necessary to intensify stimulus measures to stabilize the economy," said Li Wei, a Shanghai-based economist at Standard Chartered Plc. "The current problems of the Chinese economy are not simply rooted in the fundamentals but also have a lot to do with government policies and market confidence. The central bank should reverse the gradually worsening situation of market confidence through open market operations."
Worried about a further slowdown of credit growth and investment in the real estate market, Li urged the central bank to "make real-time adjustments to its monetary policy according to economic changes" and "cut reserve requirements for all banks nationwide".