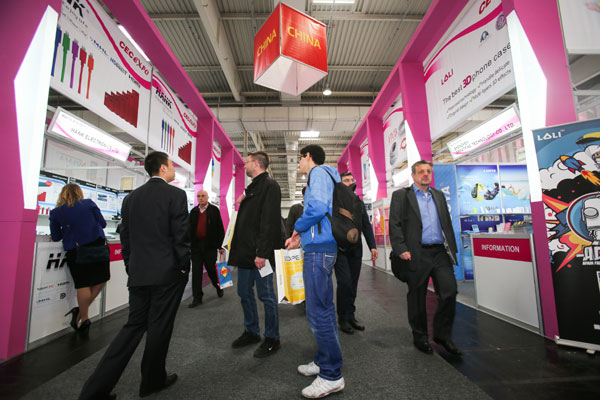 Foreign business representatives visit the stands of Chinese enterprises at an information technology exposition in Hanover, Germany. China is poised to become a net investment exporter in the coming five years, a United Nations official said. ZHANG FAN/XINHUA
China's foreign direct investment makes it major global player, UN official says
China will be at the center of the developing global framework of investment governance, with the world's second-largest economy set to become a net exporter of investment, an official of the United Nations Conference on Trade and Development told China Daily on Monday.
"From the turbulence of the past six years, it's evident that the globe needs a framework of investment governance. We have institutions for financial governance and economic governance, but there is no international infrastructure for investment governance.
"Working beyond bilateral and multilateral negotiations, we will have an acceptable framework to govern global investment activities," Mukhisa Kituyi, secretary-general of UNCTAD, said in an exclusive interview.
"We will not be too ambitious, but we'll have some procedures on governing investment, allowing for profitable moving of capital but reducing speculative and hedge fund behavior ... we will be helpful in creating a more predictable and stable global environment for investment," Kituyi added.
With China becoming a steady source of global foreign direct investment, analysts have forecast that in the next five years, China will become a net FDI exporter.
"That not only makes China a critical player in global investment, but it's also a major interested party in the evolving framework in which we govern globally the norms of investment movement," Kituyi said.
"If we are going to reach a discussion on the framework in which we define flows of investment, China is a primary party, more so than any other country. China's historic leadership role in global liberalization in the service of development places it squarely at the center of leadership on how we move on this."
He added that there is "no clear time frame, no clear road map, but we have a review for the essential areas for global dialogue to focus on".