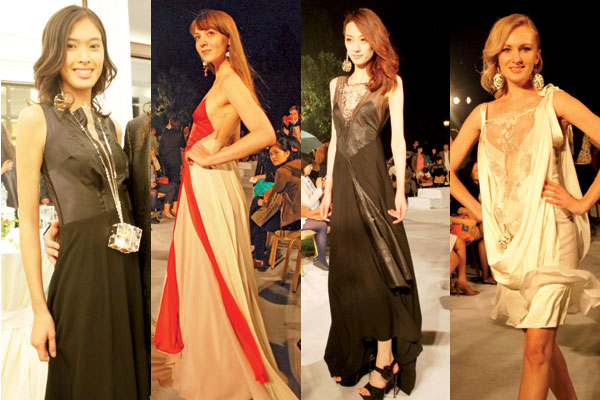 Models display amber jewelry by Polish designers. Poland has launched a series of events in China to raise the visibility of its products. Photos by Wang Chao / China Daily
Country works to fill information gap in minds of Chinese consumers
France equals perfumes and cosmetics. Germany equals technological know-how. Switzerland equals watches. And Poland equals?
The Polish government is trying to complete the sentence and fill a huge information gap in the minds of Chinese businesses and consumers as it seeks more investment.
One possible solution to the equation is amber, the fossilized tree resin famed for its golden beauty, and of which Poland possesses abundant supply.
A recent fashion show in
Beijing
had amber accoutrements as its theme and featured clothing by two Polish designers, Maria Fudakowska and Yan Novac.
The show was part of a program initiated this year by Poland's Ministry of Economy to promote its industries in China. The ministry reckons that Poland excels in luxury goods, biological industries and environmental protection.
"The promotion is more of a showcase of Polish design and culture," says Tadeusz Chomicki, Poland's ambassador to China. "We also have other activities such as seminars and conferences to introduce more business opportunities. Most Chinese do not associate luxury brands with Poland. Through these events we want to convey a message to Chinese consumers that we also have the capabilities to make top-class luxury goods."
Government figures from Poland show that about 900 factories make more than 22,000 yachts every year, 90 percent of which are exported. The yachts range from low-end to high-end, with the budget model priced at several thousand euros and the luxury ones worth millions.
The major markets are Western Europe, Northern Europe and Mediterranean countries.
"In Monte Carlo or Miami, you can easily spot yachts made in Poland," Chomicki says.
Jolanta Iwanicka, economic counselor of the Polish embassy in Beijing, says Chinese consumers know much less about Poland compared with its Western European counterparts: