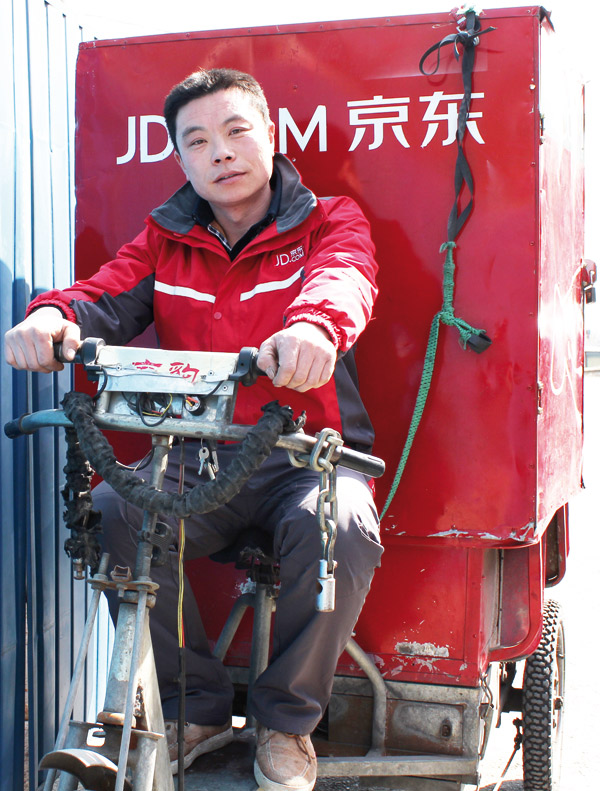 Zhao Jinyou makes about 100 deliveries a day. Wang Zhuangfei / For China Daily
The young man guns his motorcycle, weaving manically through heavy traffic on one of Beijing's outer ring roads. He barely slows as he navigates through cars and trucks clogging the lanes.
He has a package to deliver, and in modern China, packages get to where they are going in no time at all.
Across the capital - and in cities, counties, towns and villages across the country - every day of the week scooters and three wheelers dart this way and that, weighed down by goods piled behind seats, stacked in small flatbed trays, or stuffed in satchels and side pouches.
Those delivering the packages are outriders of the country's rapidly advancing e-commerce industry, doing a job that barely existed 15 years ago.
Outside a delivery terminal in Haidian, Beijing, Zhao Jinyou is preparing to go on a delivery run. He says he can fit 500 laptops in the storage box bolted on the back of an exotic contraption whose progenitors seem to be a three-wheel motorcycle and a rickshaw.
"Sometimes I need to pedal it up a hill," Zhao says.
"I can carry about 250 kilograms in the back."
Zhao, 38, is a migrant worker from neighboring Hebei province. About nine years ago he left his family farm and came to Beijing, chasing the higher wages in the big city.
Since 2010 he has worked for jd.com, the second-biggest online retailer in the country.
The data provider EMarketer says China's e-commerce market, which includes travel products and services as well as retail, was worth $181 billion last year. That figure is forecast to reach $275 billion this year. EMarketer estimates that at some time in 2016 China will surpass the US as the world's biggest e-commerce market, and some analysts believe it has already done that.
For Zhao, the extraordinary popularity of online shopping has given him a job that pays up to 10,000 yuan ($1,600; 1,160 euros) a month, double the average wage for a university graduate in Beijing, and more than what his parents make from farming in a year. He also receives benefits including healthcare and a rental subsidy.
"The wages I make mean my parents and family have a better life," he says. "It's a lot more money than being a farmer, who only makes money at harvest time, and even then only about 10,000 yuan a year."
Zhao says it is not the life he foresaw as a boy growing up in a village about 200 km from Beijing, where he dreamed of fame as a singer. In fact no one of his generation could have foreseen such a job.
"It's interesting to think that this work didn't exist in my childhood. It's a sign of China's modernization."