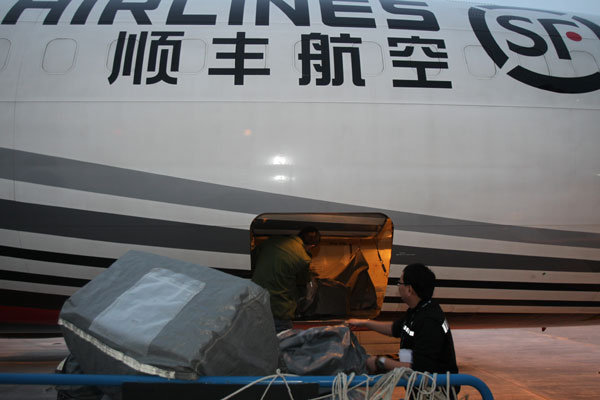 A worker unloads packages from a Shenzhen-based SF Express (Group) Co cargo aircraft in Nantong, Jiangsu province. [Photo/CHINA DAILY]
Domestic express delivery services are getting a business boost from the explosive growth of e-commerce and using that revenue stream to expand their cargo fleets - but they're also looking over their shoulders as international logistics giants move further into the Chinese market.
Shenzhen-based SF Express (Group) Co, Shanghai-based YTO Express Co Ltd and State-owned China Postal Airlines are buying and leasing more aircraft, renting warehouse space at airports and expanding their delivery options to meet growing competition from global delivery services.
Li Sheng, president of SF Airlines, the air service branch of leading package service SF Express, said the group has found that increasingly affluent Chinese consumers want better services. For that reason, the company is buying and chartering more cargo freighters.
It acquired four cargo aircraft from Boeing Co last year, taking its fleet to 33 planes - 14 owned and 19 chartered. It plans to buy another 11 aircraft by the end of 2015.
"Our cargo planes do a lot of night flying to deliver packages on time. And we have to apply strict security procedures at all times," Li said.
SF Airlines is recruiting trainee pilots from domestic civil aviation institutes, as well as hiring Chinese and foreign captains. It's also recruiting more ground staff.
It already has 240,000 employees, more than 11,000 delivery vehicles and 7,600 service points around the world through which it serves domestic and international companies and individuals. It's mainly focused on China, including Hong Kong, Macao and Taiwan, as well as South Korea, Japan, Malaysia, Singapore, Thailand, Vietnam and the United States.
Hou Hanping, a professor of logistics management at Beijing Jiaotong University, noted that many factors are affecting the industry: an expanding economy, the use of information technology and the rising urbanization rate in China. Those factors mean more segmented and sophisticated markets for delivery services, Hou said.
Online sales in China rose 42 percent last year to 1.85 trillion yuan ($298 billion) in 2013. That surge lifted the nation's express shipping market by 37 percent to 144 billion yuan, according to the China e-Business Research Center based in Hangzhou, Zhejiang province.